Loch Dhu is something of a quandary. Distilled at Mannochmore in Speyside, and aged in double-charred oak casks, Loch Dhu ("Black Lake" in Scots Gaelic) is extraordinarily dark in color, almost opaque. Although unconfirmed, general consensus is that significant quantities of caramel coloring were added to enhance the visual effect. Bottled briefly in 1996-1997, its marketing was aimed at trendy young drinkers as a novelty black spirit. Today, it has a cult and collector following, and bottles can fetch several hundred dollars apiece. Part of this fascination is due to its rarity – bottling runs were mercifully limited – and part to its reputation as one of the worst single-malt whiskies in existence. If you ever come across a good deal on a bottle, buy it as an investment and don't drink it! Sku over at Sku's Recent Eats kindly sent me a sample from a 200ml bottle that he opened this month. Thanks Sku!
Color is black – although with light behind it, you can tell it's really just extremely dark brown – like dark corn syrup.
Nose is brutal – a brash pungency like overripe bananas, black cherries in syrup, petroleum, burnt sugar, soy sauce, and raw fruit peelings. It's intriguingly bad, like the nasal equivalent of a horrible traffic accident – you can't help rubbernecking to look for body parts. It smells like a full kitchen trash-can after throwing away a burned stir-fry. The addition of a splash of water brings out a little of the fruit notes – like a dish of Bananas Foster that's left to burn in a corner.
Palate: Rotten fruit upfront, although the alcohol is surprisingly smooth. Medium in body, although every time I swish it around my mouth I get a fresh wave of rotten banana peel. Just as you settle in and start to think "this isn't so bad," the plastic and rubber notes enter, and start to smolder. At the tail-end there is a heavy dose of black licorice. A little water does nothing to improve the situation, if anything it dulls what little sweetness there is.
Finish is redolent of black licorice, soy sauce, caramel, burning rubber, and burnt toffee. The experience is unmercifully long, leaving behind spent coffee grains and roofing tar. I had to drink two drams of Powers to get the taste out of my mouth.
Wow. This is a train-wreck of epic proportions, and it's a wonder the company ever put it in a bottle. The market-speak from the company would have you believe that the "ripe fruit" notes, the "smoky" nose and "complex" finish are good things. They aren't. Also interesting are the handful of positive reviews of this whisky on the Internet. I suppose if you tried really hard to look at the experience as unique and refreshingly different, you might be able to bring yourself to say nice things… but if you drink it with a comparison to fine single malt scotches in mind, you will hate it. Personally, I think if the marketing for this product had aimed it at the digestif market, it might have done much better – it is bitter, herbal, anise-heavy, and will clear your sinuses, just like a lot of alcoholic bitters on the market.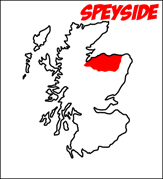 Loch Dhu (10 year)
40% ABV
ScotchNoob™
Mark
: