Speyburn, at first glance on the "cheap" section of the whisky shelf, seems like one of those fake "distilleries" that is actually independently bottled from a secret source. It's not. The Speyburn distillery, sometimes cited as the "most photographed distillery in Scotland" for its picturesque location and quaint 1900s architecture, has been in mostly continuous operation (albeit on only a pair of stills) since its construction in 1897. I was struck not by the blindingly shiny gold label, nor the declaration of a "Highland Single Malt" which is "wonderfully balanced and full-bodied with a long-lasting finish" (who doesn't say that?). No, I was struck by the price. This NAS bottling (named using the Scots Gaelic for Golden Salmon, after the excellent Salmon fishing on Granty Burn, the distillery's water source) was $15 at Trader Joe's in California. Considering the competition at that price point, it either has to be acrid and undrinkable, or bland and uninteresting, right? I bought a bottle.
There aren't many details about the makeup of Bradan Orach on Speyburn's website. It's matured exclusively in ex-bourbon casks. It's a vatting of different ages (probably, considering the lack of an age statement), likely most younger than 10 years old. After tasting it, I'd venture a guess that the average age is around 6. And it's unthinkably cheap for a single-malt at $15. The distillery's 10 year-old is also light on the wallet, at around $22. Expect a review of that one, soon.
Nose: Malty caramel and a distinct green apple note. A tad yeasty. There is no denying the youth of this vatting from the aroma, but the effect is not off-putting or overly harsh. Deeper in there is a hint of vanilla. After a rest in the glass, the nose gets a little thin.
Palate: Thin body – almost watery. Moderate tongue burn. Sour apple, unripe cherries, sugar cookie, and a slight tannic woodiness. The flavors are skewed towards the sour in an "unripe" way. Alas, too dry to be well-balanced.
Finish: Short. Sparse, but slightly sweet, like a touch of honey in green tea. Not bitter, but there is a fading sense of grassiness.
With Water: A few drops of water release a ghost of barley grains on the nose, and add ever so little sweetness on the tongue. Unfortunately, you pay for it with a distinct acetone note on the finish. Euchh.
Overall: The nose is gentle and expressive for such an undoubtedly young vatting. The body and finish don't quite live up to the promise. A bit more sweetness or roundness on the palate would warrant a higher rating, although it would probably be more expensive if that were the case. It's pretty hard to pass judgement on a $15 whisky. It's certainly not bad, and is almost (almost) as good as the relatively pricier Glenfiddich 12. If you really want a bottom-dollar sipper that can serve double-duty in cocktails, Bradan Orach isn't going to disappoint. I just made a pretty passable Rob Roy with it. Just don't expect it to taste like a $40 single malt. It doesn't.
I rated this "Recommended" because I don't have a rating for "Buy it if you're looking for the cheapest possible drinkable whisky". I have it on good authority, though, that the 10-year is better, and only $5 more. More to come on that.
About The Distillery
A Highland distillery with few accolades, Speyburn is mostly known for its pretty picturesque buildings on the road out of town of Rothes, where it neighbors several big names in scotch whisky, such as Glenrothes and Glen Grant. The distillery was built in 1897, and is now owned by Inver House Distillers. Despite several changes of hands, the distillery and its methods have largely remained unchanged except for the closing of its drum maltings in 1967 and the conversion to indirect steam in 1962. Speyburn's character, like Glenlivet and anCnoc, is very light and floral, but tends toward dryness. The distillery's process water flows from the Granty Burn, a tributary of the River Spey. It uses Douglas Fir washbacks, and its sole pair of small pot stills have wide necks, and direct vapor into copper worm tub condensers.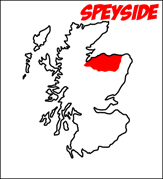 Speyburn Bradan Orach
40% ABV
Acquired:
(750ml bottle) purchased at Trader Joe's in San Jose, CA, $15