Despite the promise of the category, "blended malt whiskies" (the artist formerly known as "vatted malt" whiskies) have failed to take off as prophesied. Probably this is because the distinction (a blend involving several malt whiskies, but no grain whiskies, whereas a "blended scotch" like the ubiquitous Johnnie Walker contains several malt whiskies and one or more grain whiskies) is a little geeky for the average consumer. Compass Box has made a name for the category, although not all of CB's whiskies are blended malts. Wemyss has done a niche business making middle- and high-end blended malts. Finally there is the stalwart of the category: William Grant & Sons' own Monkey Shoulder.
I must admit that I've done my faithful readers and fellow value-seekers a disservice by taking this long to get around to mentioning Monkey Shoulder. At $25 – $30, if you haven't tried Monkey Shoulder before you might as well stop reading here and go buy a bottle. It's not the best whisky in the world, but such a solid whisky at such a great price deserves a spot on basically everybody's home bar.
Monkey Shoulder is labelled "Batch 27" as a reference to the original experimental batching of 27 casks. Now, runs of Monkey Shoulder are made 27 casks at a time, although the batches are not individually numbered. The vatting is a mix of William Grant & Sons' three distilleries, all located in Dufftown, in Speyside: Glenfiddich, The Balvenie, and Kininvie. (Kininvie was built in 1990 on the grounds of The Balvenie and makes malt that is mostly used for blends.) All three are from "first-fill" ex-bourbon casks. Sometimes malts from other, undisclosed distilleries might be included in the vatting. The ages of the whiskies are unreleased, but you can basically assume they're young.
For what it's worth, "Monkey Shoulder" is the nickname for a shoulder injury experienced by maltsters after long hours of manually turning malt on a malting floor.
Nose: Crisp, clear malty grains, almost beery. A touch of lemon. No nose-tickle or heavy scents of oak, just lightly sweet and round. After a rest in the glass, there is a heavy layer of vanilla extract.
Palate: Initially a wave of lemon peel and caramel accompanied by slight tongue burn. This passes quickly, leaving nougat, mineral water (almost like tonic, with a touch of herbal-like quinine) and vanilla frosting.
Finish: Short. Nougat all over, nutty and sweet, but quickly vanishing with a fading hint of dry oaky tannins and a bit of charcoal which leaves the mouth wishing for a little better balance.
With Water: A few drops of water amplify the citrus in the aroma which (when paired with the vanilla notes) remind me of lemon salt-water taffy. The palate has less burn, and tastes a little rounder – more "filled out". I recommend a little water with this.
Overall: This is the kind of dram that you show to your friends who think "whisky" means something you add to Coke. Then you tell them it's only $30. A gentle introduction to the world of malt whisky, with a very welcoming profile and a gentle effect on the palate, all with a nice array of grains and sweets that showcase what good middle-of-the-road ex-bourbon Scotch malt whisky is like. The finish could be better-balanced, and the aroma could use more lemony/fruity top notes, but that's splitting hairs at this price. This also makes it a reliable staple for the "low end" section of your cabinet, something you can easily toss back on ice without guilt, or mull in a tulip glass after a meal. Or, hell, you could even make cocktails with it (a practice encouraged by the brand). A jack-of-all-trades, if you will, but master of none.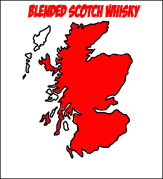 Monkey Shoulder
43% ABV
ScotchNoob™
Mark
:

Acquired:
750ml bottle, K&L Wines and Spirits, Redwood City, CA. $30.