Read my review of the bottom-shelf White Label from Dewar's here. I wasn't impressed. So, I snagged a miniature of the 12-year aged version of Dewar's house blend to see if a little age improves the dram. As with White Label, the 12-year is a blend of many components with Aberfeldy single-malt at its heart. It says "Special Reserve" on the label which, as we all know, is not special, and the only thing 'reserved' is a marked quantity of barrels set aside for longer aging. I could leave a few M&Ms from my bag out on the counter overnight and call them "special reserve" too.
Note: As discovered by the commenters, below, Dewar's appears to have dropped its 12 year-old from 43% ABV (the one I tasted) to 40% ABV sometime in the last few years. It appears to have also dropped the "Special Reserve" on the label. This review is for the older, possibly no longer available, 43% ABV bottling with "Special Reserve" on the label.
Nose: Lemon curd on buttered scones. A bit of paint-thinner – a lot more nose tickle than I like to see in a 43% ABV. A clear quantity of grain whisky – light vanilla, unripe fruit, and fresh hay. Definitely on the "light and airy" side, but with an unpleasant amount of burn.
Palate: Light cream – not very heavy-bodied despite all the grain. Potent, and the 43% ABV comes through nicely with just the right amount of tongue burn. Hazelnut skins, brown sugar cookies, and lemon peel.
Finish: Short, but not unpleasantly bitter. Some lingering pastry notes and a hint of bitter lemon. A suggestion of wood. Final note is just bitterness – oh well.
With Water: A splash of water releases a hint of anise and tames the nose tickle somewhat. It also improves the sweetness of the dram, and rounds out some of the off flavors. It doesn't do a whole lot for the finish, and the bitterness remains. Nevertheless, this is a whisky that benefits greatly from the addition of water.
Overall: On the upside, it's only slightly more expensive than the White Label, so if you're getting an inexpensive blend anyway, it's worth the upgrade. It has all the hallmarks of the "mid-range" blend: light in style, heavily "watered-down" with cheap grain whisky, and that telltale bitter finish. Sure, the malt component is 12 years old, and I'm sure it's lovely, but it's marred by 12 year-old grain whisky, which needs another 6 or so to mellow out. Yes, it's better than White Label, but it doesn't stand up to even the cheapest single malts. I'd take Glenlivet 12 over this any day. Another blend bites the dust.
Note: Remember that I'm reviewing these whiskies on the basis of drinking straight, at room-temperature. I'm sure Dewar's 12 goes nicely in a Rob Roy, but that's just not what this blog is about.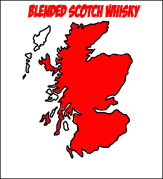 Dewar's (12 year) Special Reserve Blended Scotch
43% ABV
ScotchNoob™
Mark
:
Acquired:
(50ml miniature glass sample bottle)