John Glaser, the whiskymaking wizard behind Compass Box and creator of some of the finest blends and blended malts in the modern age of scotch, has set himself a mission: To bring good blended scotch whisky back to the masses. To that end, Compass Box has launched a new brand – Great King Street, after the street on which Compass Box is headquartered – and its first release is called "Artist's Blend."
The blend contains just over 50% Lowland grain whisky aged in first-fill American oak barrels. The rest (just under half) is malt: around 7% from Speyside and the rest from two northern Highland distilleries. It's aged in a combination of 10% first-fill sherry butts, 27.7% oak barrels fitted with new charred French oak ends (heads), and the rest in first-fill American (ex-bourbon) barrels. I love to see this kind of information made available by the whiskymaker – it shows that the whisky has nothing to hide, and acknowledges that people might be curious about the content of their whisky. Oh, and it's $40.
John referred to Artist's Blend as "blended scotch for whisky geeks" at this year's WhiskyFest, although it also has much wider appeal. By starting with excellent well-aged Lowland grain whisky, artfully blending it with a higher-than-normal proportion of malt, and then bottling it at 43% ABV with no chill filtration or caramel coloring, John has proven (to this blogger at least) that blends don't have to play second-fiddle to single malts. As the website states, "Due to the preponderance of poorly made, inexpensive Blended Scotch Whiskies on the market, many people assume any bottle of Scotch bearing the term 'blended' is somehow inferior."
I will admit to having that same bias myself. At the start of my whisky journey, I quickly discovered that single malts were flavorful, potent, and exciting. The blends I tried, in comparison, were watery, dull, and cheap-tasting. Kudos to John for turning me around: this juice is awesome, and it makes me very optimistic about the future of blends. I hope he sells a ton of the stuff. My notes below:
Appearance: Super pale – the color of hay.
Nose: The grain is evident, but there's a fresh, citrusy apricot note that wows. Dry hay, elderflower (really!), and there might be a hint of dry mossy peat, but only a hint. Some vanilla bean, or vanilla ice cream. Custard. Soft, subtle malt, partially overshadowed by the sharper grain notes, but it works. Buttercream frosting. Mmm.
Palate: Wow! Very creamy body. Creamsicle up front, with waves of vanilla pudding or tapioca, soft grain without undue alcohol burn, apricot preserves, marzipan… just wow. Confections unending, and all tied together with that nice, bright, citrusy grain. Just great.
Finish: Medium length, a little more bitterness than I usually like, but it echoes with vanilla frosting and marzipan. On the very tail end, green apple skins.
Overall: This is fantastic stuff for $40 a bottle. The grain lifts the blend up, rather than thinning it out or watering it down. There is a clear delineation between the prominent notes; nothing is muddied or vague. The subtle perfumy nose and creamy, flavorful palate make this an eye-opener.
A few drops of water brings some green grass to the nose, and makes the grain sharper. On the palate, it adds some smoke, revealing some meaty peat and charcoal. More wood tannins on the finish. I wouldn't bother with the water, just let it open up in the glass for 10 minutes instead. You could, of course, use this for cocktails – but I like it straight up. It's that good.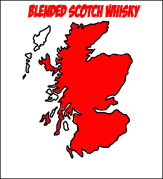 Great King Street "Artist's Blend"
43% ABV
ScotchNoob™
Mark
: