Ok, I usually review whiskies that are in my own price range. That's under $100, although I consider anything over $50 to be a bit of a stretch. Once in awhile, though, I get an opportunity to taste something wholly out of my budget – and who am I to look a gift horse in the mouth? Thanks to Patricia at The Baddish Group for sending me a sample of Mackinlay's Rare Old Highland Malt Whisky.
If you do any reading online or in magazines about whisky, it would have been hard to avoid all of the media coverage of the recovery of three sealed bottles of whisky from Sir Ernest Shackleton's base camp in Antarctica earlier this year. Several crates of these bottles, along with other artifacts from the failed 1907 'Nimrod' expedition, have lain perfectly preserved in sub-zero temperatures for a century. When Whyte & Mackay, owners of the now-defunct Mackinlay & Co. brand which adorns the bottles, got the chance to examine the contents (under carefully-controlled conditions: the bottles themselves are headed back to the site), they did what any sensible corporation would do: make a replica and sell it for $200!
Seriously though, luminary master blender Richard Paterson brought his blending talents to bear on a re-creation of the style from the late 1800s: analysis showed the preserved bottles to be 5 to 10 year-old single malt, likely from the Glen Mhor distillery, using barley smoked with a little bit of Orkney peat, and aged in ex-sherry barrels. The re-creation contains some Glen Mhor (a closed distillery), some Dalmore, and an undisclosed mixture of other malts. Retailing at around $175, this is not whisky for the faint of wallet, although you could console yourself with the knowledge that 5% of the proceeds are donated to the Antarctic Heritage Trust, which oversees the maintenance and protection of heritage sites like Shackleton's camp.
Note: There is a much cheaper, newer reproduction of Mackinlay's whisky on the market. See a review here.
Nose: Very Highland in style – fruity, honeyed and light. Faint hint of peat – like rosemary smoke – with some unctuous peach and raw honey. Also something vibrant and young: clementine oranges and fresh crushed mint. A little rubber. More nose tickle than I'd expect, even after a long rest in the glass. This one really crawls up your nose.
Palate: Quite full body. Creamy. Orange blossoms up front with honeycomb and raspberry coulis. Next it gets malty, showing gingerbread and shortbread cookies. Finally it gets slightly nutty.
Finish: Long and satisfying. Residual honey, a little drying tannin, some maple syrup and hard candies. Wraps up with peanut butter. Excellent finish which really keeps the flavors coming, rather than fading off.
Overall: If I were weathering a snowstorm at the South Pole, I'd sure like to have several cases of this stashed under my cabin. Or better yet, under my bed! Eminently Highlander, with loads of honey and sticky-sweet candied fruits, a touch of smoke, a hint of rubber, and lots of flavor. I'm too poor to buy $200 bottles of anything, but if the story captures your attention, and the thought of cracking open a $200 bottle of spirits doesn't make you break out in a cold sweat, you won't be disappointed. I'm guessing a large number of sales will be primarily to collectors, as there are a limited number of bottles (50,000) available.
A few drops of water reveal a little roasted peanut on the nose, make the palate a lot more malty with brown sugar and cereals, and don't seem to alter the finish. Try a few drops if you're curious, but I think it drinks just fine without.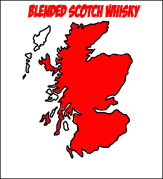 Mackinlay's Rare Old Highland Malt Whisky
47.3% ABV
ScotchNoob™
Mark
:
Acquired:
(Sample) Courtesy of The Baddish Group. Thanks, Patricia!