Glenfiddich, as befitting a large distiller with a significant share of the global single malt scotch market, releases enough special editions that I can't keep up with them. I do know not to dismiss them as "airplane bottle" scotch, as not only is the Glenfiddich 12 serviceable in its own right, but several of their special editions have had that magic combination of high quality and low cost. Even their 15 and 18 (both excellent) can be found for less than comparable brands.
This particular release, which I snapped up in 2022 but is still on shelves well into 2023, was aged for a full 12 years in a combination of American and European oak sherry casks – assume that means refill casks – before finishing for an undisclosed period of time in Amontillado sherry casks. Amontillado is a dry type of sherry, so don't expect sweet fruity flavors. It's not quite as dry as Fino, however, which rarely makes it onto single malt labels. It's bottled at 43% ABV can be found under $50.
Nose: Raisin-y, with an edge of dry red wine. Tobacco, dry oak, and a little more nose tickle than you like to find at 43% ABV. Deeper in the glass there are some tutti-fruitti aromas, orange peel, and sandalwood.
Palate: Medium-bodied. Dry throughout, with a moderate tongue burn. Coconut butter, only a hint of raisin, dry wood, and a thin veneer of red grape skins.
Finish: Medium length. Turns nutty, with almonds and hazelnuts. Dry, still, and evolves into tobacco leaf and significant bitter barrel tannins.
With Water: Several drops of water tame the nose tickle and coax out a limited amount of mixed berry jam. The palate also carries that jam note, as well as balsamic reduction – both much-needed sweet elements. Both carry into the finish. Water highly recommended here.
Overall: One tends to hear "sherry" and think "sweet", but such is not the case with this particular finish. Amontillado is dry to begin with, and there's little sweetness from the malt to buffer it, so the drinker is left with an assortment of nuts and dry herbs and spices, but not a ton of body or balancing sweetness. Still, it's complex enough to warrant the price and interesting in its way – especially if you add those drops of water. If you happen to be a scotch drinker who thinks that sherry makes scotch too sweet, this is definitely the bottle for you.
If you're looking for a sherry bomb or a ton of fruit, look elsewhere, such as Tamdhu 12, GlenAllachie 12, Macallan 12, etc.
About The Distillery
Glenfiddich needs little introduction. One of the most prevalent single malt Scotches available in the US, the baseline 12-year can be found in drug stores, supermarkets, liquor shops, bars, and restaurants across America. In fact, Glenfiddich and Glenlivet are probably the only two single malts that many Americans would recognize by name. In 1963, William Grant & Sons company set aside casks of Glenfiddich whisky with plans to market it as a single malt. Single malts were, at the time, exclusively the domain of independent bottlers, and were not widely available outside of specialty wine & spirits retailers. This move started the industry (which soon followed suit) down the path of official distillery bottlings of single malt whisky, and is largely the reason today's whisky industry is so diverse. Located in Dufftown, in Speyside, Glenfiddich means "The Valley of The Deer" and refers to the field on which the distillery is sited – it also explains the image of a deer on the label. The entire production, from malting to bottling, is done on-site, which is very rare for a distillery. Craft Campbeltown distiller Springbank may be the only other one. Glenfiddich even has its own cooperage. Open mash tuns and Douglas-fir washbacks are used in distillation, and the water flows from Robbie Dubh spring, which rises from the granite Conval Hills. With 29 stills making 10 million litres of whisky a year, it's no surprise that 33% of the world's malt whisky sales are Glenfiddich. Even if you don't appreciate the "mass-market" aspect of their whiskies, you have to appreciate the industry revolution set in motion by William Grant a half-century ago, and the powerhouse brand that he built.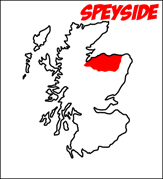 Glenfiddich (12 year) Amontillado Sherry Cask Finish
43% ABV
Acquired:
(750ml Bottle) purchased at Mission Liquor, Pasadena, CA, $40