Asyla is a blend of 50% malt whisky (I'm guessing a large portion of that is Clynelish, which Compass Box's John Glaser uses like it's going out of style As pointed out by Dan in the comments, Compass Box's website states that the components "come from the towns of Longmorn (Longmorn) and Alness (which means either Dalmore or Teaninich, with my bet being on Teaninich), and NOT Clynelish, with the grain whisky from Fife (Cameronbridge)" — thanks Dan!) and grain whisky, all aged in first-fill American oak (meaning ex-bourbon casks being used for the first time after draining the bourbon). The whisky is bottled at 40% without chill-filtration or added coloring agents.
When I drink a blended scotch, I'm looking for four things. First, I want something easy-drinking and light-hearted that doesn't get bogged down in complexities and eccentricities. Second, I want crisp, clear, and above-all clean flavors that don't remind me of paint thinner, detergent, or vodka sold in plastic jugs. Third, a price point that falls into the "daily dram" category ($20 – $40 for me). Fourth, I want a little flavor (since the first three conditions are met by pure water) – something that sets this drink apart from other products (especially other blends) – even if that flavor is one-dimensional.
John Glaser, I think, is on the same page with me. Every Compass Box blend I taste speaks to me as the work of a master blender trying to hone in on those four qualities. Here, we have easy-drinking lightness and clean and clear (decidedly non-vodka-esque) flavors. Alas, the vanilla, mashmallow, and breakfast cereal notes are somewhat run-of-the-mill and (the deathblow) the bottle retails at $45 and up. Womp womp. Asyla is a tasty, crisp, unassuming blend with none of the dirty flavors of bottom-shelf blends, but also few of the attractive qualities of single malts. One could call it a "drink it and forget it" kind of drink.
I might have been less hard on Asyla if John Glaser hadn't already outdone himself with Great King Street Artist's Blend, which I will never tire of pushing on you people. GKS has all four of the conditions laid out above – light character, clean flavors, $40 price point, and some eyebrow-raising flavor. I can't think of any reason to buy Asyla when Great King Street is on the shelf.
Color: Pale, pale, pale straw. Almost clear.
Nose: Evident Clynelish – waxy, vegetal, vanilla. This actually reminds me of a (really nice) Reposado Tequila. Deeper in, a hint of lime juice or lemon peel. The aroma is sparse, but clean.
Palate: A slight creaminess – certainly not thin. Vanilla returns, and a layer of cereal sweetness.
Finish: Short, but with some nice marshmallow, vanilla custard, and cream soda flavors. No bitterness.
With Water: A few drops of water seems to draw out the "new make" aspect of the younger components – revealing more cut grass or raw cane sugar types of notes. Water thins the palate, adding nothing, and is similarly ineffective for the finish. This needs no water.
Overall: This is a clean, crisp, and borderline bland example of what skillful hands can do with young or inexpensive whisky blending components. Although similar in price, it is far more clean and elegant than most blended scotch on the planet. However, its clean lines leave very little behind in terms of flavor or complexity. If you're looking for an inexpensive blend without a lot of character, but without any obvious flaws, this is a good one to try.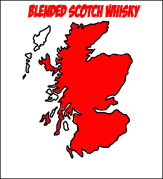 Compass Box Asyla
40% ABV
ScotchNoob™
Mark
: