Occasionally, I'll be thumbing through the shelves at my whisky shop and I'll come across a name I'm not familiar with. It's often a plain bottle, and there's usually only one expression present. I begin thinking, "Hey, maybe this is a hidden gem that the 'mainstream' hasn't found yet, and I could be drinking the next Pappy Van Winkle in a kilt, for… -checks the price tag- $34!" Smiling smugly to myself, I cart my newfound treasure home and promptly fill a glass. Channeling generations of intrepid explorers before me, I open myself to the new experience and take a sip…
Bleh. I check the bottle again. Yup, it's a single-malt. Why does it taste like alcoholic wallpaper paste? The spiritous equivalent to dry matzo. It doesn't taste bad, per se, it just tastes like nothing. Then it hits me – I've duped myself. There's a reason I've never heard of Tomintoul before, and a reason the store was still plenty well stocked with the single expression they carried. Feeling like an explorer whose new land of opportunity turns out to be a barren, lifeless rock in the middle of the ocean, I relegated the bottle to the back of my cabinet, with the rest of the "mixing fodder." Ah well.
Tomintoul, built in 1965 and now owned by Angus Dundee is a light-bodied Speysider sold with the marketing slogan "The Gentle Dram" – which may be the most lackluster marketing spin I've ever seen. The 10-year is aged exclusively in ex-bourbon casks, and bottled at the minimum 40% ABV. Process water comes from the Ballantruan Spring.
Nose: Yeasty/bready. A little on the hot side, with some brown sugar, dusty dried apricots, and nondescript caramels.
Palate: Medium-bodied, with a hint of creaminess. "Gentle" is right – there is no tongue burn to speak of. A nice maltiness complements a hint of oak.
Finish: Medium-short. Walnut skins, some oak tannins, and a vanishing caramel sweetness.
With Water: Water seems to have no effect on the aroma, nor on the palate. Take it or leave it.
Overall: This may indeed be "The Gentle Dram", but even at 10 years of age it leaves a lot to be desired. The usual suspects for a Highland malt aged in middling ex-bourbon casks are present – the typical caramel, yeasty bread, brown sugar, and nuts – but nothing serves to elevate this dram above any other similarly-aged malt. At least at 10 years of age, it's unfortunately forgettable. The 12 year may be a better bet, with some oloroso sherry aging behind it, and older expressions may condense some of that "gentleness" into some actual flavor. (Or not, here's my review of the 16-year.) For me, I say skip the 10 year.
About The Distillery
Pronounced "Tom In Towel", this Speyside distillery was built rather recently in scotch whisky terms, in 1965. The distillery is now owned by Angus Dundee and is marketed as "The Gentle Dram", although Tomintoul also produces a peated malt made with local Highland peat. The distillery is situated on the river Avon, but draws process water from the Ballantruan Spring. The distillery has four stills, all steam-heated, and eight stainless-steel washbacks.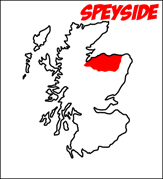 Tomintoul (10 year)
40% ABV