Oh man am I phoning these in now. How many of you have wandered through the aisles of your local whisky shop and come across a fetching bottle of Tomintoul 16-year and thought, "That's a dram that I'd like to try!" Likely not many of you. I certainly am only tasting this in order to notch another review. In fact, I've been spending the week trying to change ad networks due to recent abysmal ad revenues (likely a consequence of GDPR… or at least I'm going to blame it on that), so I didn't have time to do a "real" review of something actually interesting. (Also, I don't have the energy to come up with an April Fool's joke…)
So, with no further ado, I give you… Tomintoul 16! Priced where 16 year-old single malts used to be priced, it's bottled at the basement strength of 40% ABV after aging in exciting extremely usual ex-bourbon barrels.
Nose: Very shy – allow it to rest for awhile in the glass to open up. Piney, like sawn pine branches. Tart apples and spicy anisette. Quite floral, although I can't place the flower. Deep in the glass is a suggestion of white peaches and raw honey.
Palate: Medium bodied, although the flavor seems a too watered-down at 40%. Raw honey, again, complete with the comb. Toasted oats, slight wood, and not bitter.
Finish: Short. Minty, with licorice and menthol. Evolves into a reprise of the white peach and honey from the aroma, and then fades quickly.
With Water: A few drops of water brings more of that white peach to the front, along with green tea. Alas, it seems to drown out the other notes. The water also makes the palate thinner and even more watery, perhaps even bland. If you use water, use it sparingly.
Overall: A tasty, easygoing malt that has been murdered by the addition of far too much water. By God, this should be 46% at least. The fact that it has been waterlogged – indeed, drowned at 40% ABV – should be ruled a crime against Man and Whisky. For shame. For what it's worth, it's a sight better than the Tomintoul 10-year, and definitely worth the extra cash if you're one of the two or three Tomintoul fans out there. (Cue the two or three angry comments.)
At 46% with this flavor profile, I could heartily recommend this. At 40%, I cannot.
About The Distillery
Pronounced "Tom In Towel", this Speyside distillery was built rather recently in scotch whisky terms, in 1965. The distillery is now owned by Angus Dundee and is marketed as "The Gentle Dram", although Tomintoul also produces a peated malt made with local Highland peat. The distillery is situated on the river Avon, but draws process water from the Ballantruan Spring. The distillery has four stills, all steam-heated, and eight stainless-steel washbacks.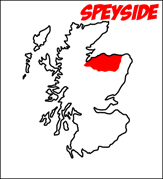 Tomintoul (16 year)
40% ABV