I've always (since I began drinking scotch) had a lively lack of respect for the Johnnie Walker line of blended scotch from Diageo. It represents to me the wrong end of the spectrum between artisanal, hand-crafted, small-batch spirits and factory mass-produced, lowest-bidder, penny-squeezing corporate swill. I personally don't believe that quality and greed can coexist in the same producer, whether that producer is making whisky, wine, cheese, or furniture. Diageo has publicly stated that since most of its significant global revenue comes from blended whisky like Johnnie Walker, it would happily close down its high-cost, low-margin single malt bottlings and focus entirely on dumping vats of malt into vats of grain for blends, if it could. That does not sound (to me) like a company interested in providing a high-quality product to a discerning consumer.
That said, this blog is meant for evaluating the taste (not just the politics) of whisky, so I thought it high time I give a thoughtful look at the quintessential Johnnie Walker whisky: the Black Label. This is a standard blend of some unknown percentage of malt and grain whiskies, all at least 12 years old, and represents something like 130 million liters of annual sales (that's an old figure from 2005 and includes all Johnnie Walker blends – this info is surprisingly hard to find online). Suffice it to say they make a LOT of the stuff, and it sells at a fantastic rate worldwide. The component malts of Johnnie Walker are (along with 36 other malts and grains, at varying percentages): Cardhu, Talisker, and Lagavulin. Doubtless, a little bit of every Diageo-owned malt (except Oban) is included. It's a safe bet that the majority of the malt here is Cardhu 12-year, although some marketing material claims that "the heart" is Talisker. After tasting it, I doubt that.
I don't usually remark on color, but I noticed that JW Black has an unnatural red-gold color. It is most certainly heavily colored with caramel coloring.
Nose: A light Highland peachiness (Dalwhinnie?). Pretty floral. Light and inoffensive. Totally unable to detect any peat. Deeper in, round and mildly buttery. Nary a hint of paint thinner!
Palate: Medium-bodied. Mild tongue burn – I guess that would be called 'smooth'. Vanilla cake bread crumbs, a slight hint of smouldering match head, and a few seconds later, an acidic wave of vodka-esque off notes.
Finish: Slightly acrid, like a smear of coal tar on top of a buttered scone. Fading out with some almond paste, and only a little bitter woodiness. On the short side.
With Water: Elevated florals, and a hint of peach pit on the nose. Shortbread and crumb cake on the slightly thinner palate. A nice woody marshmallow and some caramel on the finish. This is quite improved by the addition of a splash of water.
Overall: Ok, fine, it's really not that bad. It has some nice floral elements in the nose, a straightforward flavor, and not too much bitterness on the finish. That said, it has two major downsides: First, it was clearly blended to be bland and uninteresting (the industry euphemism is 'consistent'). There might be peated malt in here, but it's so diluted that it just comes across like a fine layer of stale ash. The florals would be interesting if they weren't overpowered by a wash of cereally grain. Second, the grain component is obvious, and not harmoniously integrated with the malts. It provides some nice heft and body on the palate, and a bit of creaminess, but its relative youth – although 12 isn't too bad – and lack of quality can be tasted in the vodka notes on the tongue. Frankly, it would be hard for this not to taste mass-produced.
For $30, you could certainly do worse, but I feel that for a little more money, one could enjoy a wide variety of single-malts that shine in their own ways, rather than continuously pour cash into the Diageo blend machine and be satisfied with a muddy, uninteresting jumble of substandard malt barrels and bottom-dollar grain. (That's hyperbole, the bottom-dollar grain goes in the Red Label). Here's an idea: buy a bottle of Dalwhinnie 15 or Cardhu 12 for the florals, a bottle of Cragganmore 12 for the malty sweetness, and a bottle of Caol Ila 12 for the punch of smoke, and blend yourself a personalized (and far superior) Black Label blended malt.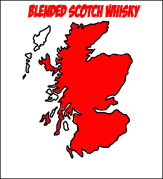 Johnnie Walker Black Label (12 year) Blended Scotch
40% ABV
ScotchNoob™
Mark
:
Acquired:
(50ml miniature plastic sample bottle)