Color: Pale Yellow
Nose: Apricot and orange-blossom honey, honeydew melon and green apple, lemon sorbet. Some green grass and little hints of Vinho Verde. A few drops of water opens up some heather and other flowers.
Body: Thin legs, thin body. A little creaminess, which a few drops of water sadly breaks up.
Palate: Comes on with the nicest hazelnut gelato, which fades into apricot jelly, lemonade, cantaloupe, and a little frosted breakfast cereal.
Finish: Medium length, and the oak comes on finally, with undertones of vanilla and a final fading ghost of lemon curd and grapefruit. Refreshing. I might be crazy, but I think a few drops of water actually extend the finish, lingering with lemon drop candies, lime peel, and malted milk.
Those Spaniards know what they're talking about: a lovely dram – very gentle. Bright and sweet without being cloying in the least. With so many fruits, it's like drinking a summer fruit punch with vanilla ice cream floating in it. Yum. Try it with and without the water.
About The Distillery
Located in the heart of Speyside, Cardhu is Diageo's best-selling single malt (which is surprising to me: none of my local California liquor stores carry it), and is perhaps best known as the heart of the Johnnie Walker blends. In 2003, Cardhu single malt had grown so popular in Spain that owner Diageo made a move to extend stocks by vatting together Cardhu single malt with two other lesser-known single malts from other distilleries, producing what was generally then called a "vatted malt whisky", and proceeded to market the product in Spain as "Cardhu Pure Malt." This caused something of a furor in the whisky industry, and while Diageo quickly scrapped the project, the
Scottish Whisky Association (SWA)
used the opportunity to put new whisky labeling rules into effect, first declaring that a distillery's name may only appear on the bottle if that bottle contains only whisky from that distillery. In addition, the word 'pure' (being vague in its interpretation) mustn't appear on labels, and lastly that the phrase 'blended malt whisky' replace the earlier unofficial 'vatted malt whisky' (meaning whisky made only with malted barley: No other grains or unmalted barley). Cardhu's reputation is still recovering from this misstep. The water comes from springs in the quarzite hills of Carn na Cailliche.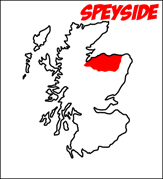 Cardhu (12 year)
40% ABV