This marks my first taste of a Duty Free (aka "Travel Retail") bottling. The industry figured out long ago that the best way to make money off of travelers looking to avoid paying duty taxes on alcohol while traveling internationally was not to offer low-cost bottles or offering deals, but instead to offer exclusive labels that could only be found in duty-free shops. That way instead of losing margin on travelers looking for a deal, they could make an extra profit by selling uniqueness and cachet. This makes Travel Retail a good place to find one-off bottlings, interesting finishes, and unusual gifts, but not a place to find a deal.
Walk into any airport or cruise line duty-free shop and you'll see rows of liter-sized marked-down bottles of vodka, gin, rum, and tequila next to above-average-priced bottles of scotch and bourbon that you've never heard of. Still, for the whisky enthusiast looking to try a little of everything the world of whisky has to offer, duty-free is another avenue to explore.
My parents were nice enough to pick up a bottle of The Macallan Whisky Maker's Edition on the way back from their recent trip overseas. Thanks Mom and Dad! This 700ml bottle, with no age statement, arrives with basically no information on its label about its make-up or provenance. The Internet has revealed that it is comprised of both ex-sherry (the majority) and ex-bourbon casks, and bottled at Distillery Manager Bob Dalgarno's preferred strength of 42.8% ABV. Why not 43%? Because 42.8% was the original lowest standard proof (75 Imperial Proof) for retail before it was dropped to 40% ABV in 1980. Oddly, the bottle's label doesn't name Bob at all, instead referring to the eponymous "Whisky Maker". In an effort to harken back to traditional styles of single malt scotch, Bob Dalgarno sourced some barrels of Macallan distilled from the now-defunct Golden Promise strain of barley. While the bottle does not state an age, it is (according to Bob) comprised of Macallan aged 12 years and up, with "some much older".
Honestly, I think producers like Macallan are missing a beat by not providing this information prominently on the back of the bottle and on the website. This is the kind of information that sets a $100 bottle of Whisky Maker's Edition apart from a $40 bottle of NAS malt.
Nose: Resinous and sharp, with piercing notes of blood orange, fig, and raisin. Typical sherry-driven profile, with a lot of dried fruit and a funky twist, like the aroma of sour ale. Deep, complex, and satisfying, although the deeper leathery notes of old sherry are missing, replaced with tart fruits.
Palate: Syrupy. Raisins in bread pudding, with a haze of caramel. Echoes perfectly the collection of notes from the aroma, fully delivering on the promise of the nose. Strength seems "just right", with just a splash of fire up front. Very drinkable at this ABV.
Finish: Of medium length. Raisins again, with some sparkling tart notes (kiwi, golden raisin, redcurrants), and red wine reduction. Simple, but pleasant.
With Water: If you add water to this, let it rest in-glass for several minutes, as it initially dampens most of the aroma. After a rest there is decidedly more caramel, with added buttercream frosting (vanilla) in exchange for far less fruit and a thinner body. I'd skip the water, especially since this 42.8% bottling strength was an intentional choice by Macallan.
Overall: A satisfying, full-flavored sherried malt in true Macallan style. There is clearly a hefty dose of younger (12 year ish) sherried malt, given the lack of leather and rancio notes and the prevalence of fruit flavors that come across as fresh instead of dried. Still, it's perfectly well-balanced, finishes elegantly, and tastes just like it smells (a rarity). As a Travel Retail offering this wouldn't make for a regular purchase, but as a gift or a memento it fits the bill nicely and the price tag is commensurate with current price standards in single-malt scotch (especially with The Macallan name). It's certainly better than The Macallan Gold.
About The Distillery
The Macallan is big. Real big. Prized by collectors, consumed all over the world, The Macallan is a marketing powerhouse, with a very wide range of single-malt expressions targeting local tastes in every major market. Distilling almost continuously since 1824 when Scotland first legalized the production of spirits, The Macallan releases "replicas" of its older bottlings and also continuously experiments with new finishes. With global whisky tastes evolving away from the classic "all Sherry, all the time" style, The Macallan is battling its image as a Sherry Monster by releasing a "Fine Oak" range that focuses on the wood influence, and using a lower proportion of Sherry aging. You can always rely on a flagship Macallan to display big sherry notes of dark fruit, raisins, and spice.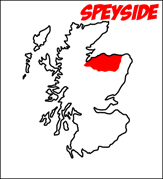 The Macallan Whisky Maker's Edition
42.8% ABV
Acquired:
(700ml Bottle): Received as a gift. Thanks Mom and Dad!