I had the pleasure of participating in the 2/24/2011 #anCnoc Twitter tasting, hosted by @EdinburghWhisky and anCnoc. This first sample of the entry-level 12 year expression was generally approved-of, with tasters noting many fruits ranging from fresh spring berries to tropical fruits and flowers. The 12-year-old expression is aged in a mix of bourbon and sherry casks. Here are my notes from the event.
(Twitter tasting – 50ml sample courtesy of anCnoc (Knockdhu distillery) – 2/24/2011 #anCnoc twitter tasting)
Nose: First whiff is of raspberries and cream. Lemon meringue. Definitely honeyed. Light and floral. Later, I get a bit of peaches: perhaps peach schnapps. A drop of water revives the nose and pulls out lots of green apple.
Body: Light and unfortunately watery. Upfront are bananas dipped in caramel sauce, developing into dry haw or straw, and finally some bitter notes: not citrus but woody: green sap or freshly-cut pine or birch logs. A dash of water may amp up the sweet honey character.
Finish is initially sweet and caramel-heavy, which fades into honey and those bitter green sap and oak notes, which remain to the end of the medium length finish. Leaves me thinking about a bitter digestif – perhaps a hoppy aftertaste.
About The Distillery
Pronounced 'an-nock', this single malt is actually distilled at the Knockdhu distillery in Speyside. To avoid confusion with the Diageo distillery Knockando, Knockdhu's new owners appropriated the name of the nearby hill Knock Hill ("An Cnoc" is the Gaelic) when they began bottling a single malt in the early 1990s. The distillery had previously been making malt for blending for the hundred years since its construction. Several streams arise on Knock Hill and provide water for the town of Knock, and for the distillery. Knockdhu uses tradtional worm tubs instead of condensers, which is said to promote weight and body to the spirit, along with sulphur and vegetable notes.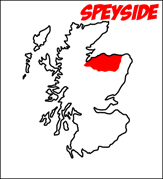 anCnoc (12 year)
40% ABV
Acquired:
(50 ml sample) provided by Knockdhu distillery for Twitter tasting.