I had the pleasure of participating in the 2/24/2011 #anCnoc Twitter tasting, hosted by @EdinburghWhisky and anCnoc. This second sample of the flagship 16-year was my least-favorite, although it shows ample maturity and smoothness, it doesn't stand out among similar Speysides. The 16-year-old expression is aged in only second-fill bourbon casks.
(Twitter tasting – 50ml sample courtesy of anCnoc (Knockdhu distillery) – 2/24/2011 #anCnoc twitter tasting)
Nose: The 16 is more subdued than the 12 year – fruits are cooked or jammed. Toffee and vanilla more in the front. Grassy. Hazelnut or praline ice cream? Water makes nose too subdued.
Body: There is an unctuous thick mouthfeel. Creamy and silky. Feels much older than it is. Water thins out the body too much.
Palate: Big on the hazelnuts. Light-roast coffee. Sweetened cream. Some cooked fruits in the background: cherry cordial. Other tasters found black pepper/tea/tobacco. Water brings out the sweet bourbon-oak character, perhaps a little too much.
Finish is big on the vanilla and drying oak and is quite long, leaving lingering black pepper behind.
Very nice after-dinner. Desserty but robust. Not too sweet or cloying. Complex and with interesting spice and off-fruit notes. Not a great deal of depth, but contemplative.

About The Distillery
Pronounced 'an-nock', this single malt is actually distilled at the Knockdhu distillery in Speyside. To avoid confusion with the Diageo distillery Knockando, Knockdhu's new owners appropriated the name of the nearby hill Knock Hill ("An Cnoc" is the Gaelic) when they began bottling a single malt in the early 1990s. The distillery had previously been making malt for blending for the hundred years since its construction. Several streams arise on Knock Hill and provide water for the town of Knock, and for the distillery. Knockdhu uses tradtional worm tubs instead of condensers, which is said to promote weight and body to the spirit, along with sulphur and vegetable notes.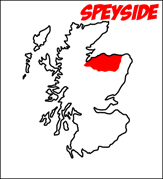 anCnoc (16 year)
46% ABV
Acquired:
(50 ml sample) provided by Knockdhu distillery for Twitter tasting.