Here's something I didn't expect to find on the shelves in 2020: a 14 year-old single malt with a cognac cask finish for $40. What is this, 2012?
In the arms race that is the modern whisky industry, it's actually pretty surprising that it took this long for someone to crack out a brandy finish. We've seen everything from Chenin Blanc finishes to Mezcal finishes, and yet it took this long for a major market participant to put whisky in a barrel that previously matured cognac. Weird. Even more weird, this particular example was aged in a combination of ex-bourbon and ex-sherry casks before being "selectively" (what?) aged in cognac casks for around 6 months. I guess they were worried there wouldn't be enough grape in the final product?
The 14 year-old single malt is bottled at 40% ABV and probably includes added color and is also probably chill filtered. You can't win them all.
Nose: Rich, nutty, and with a distinct brandy note. Not at all shy, but also not particularly complex. Brandy, a hint of green apple, a swath of malt, and middling caramel sweetness is all I can pick up. Still, the whole is round and complete and pleasant.
Palate: Thin bodied. Moderate tongue burn, considering the minimum ABV. Generally a reprise of the aroma, with a distinct grape-y brandy note, mildly sweet malt, a haze of barrel char, and a slight hint of green apple / green grape.
Finish: Medium length. Very consistent, this one. The notes are mostly continuations of the flavors from the palate. The brandy comes to the fore here, with a honey-and-raisin note that fades quickly, leaving barely-bitter tannins. Again, wholesome if uncomplicated.
With Water: A few drops of water initially shut down the aroma, necessitating a rest in the glass. The aroma comes back slowly – first with increased nose tickle and a vague green bramble note, and then a bit of caramel. On the tongue the body is a little weightier and the tongue burn lessened. The finish is a bit sweeter. Water is optional here – experiment if you're curious.
Overall: A very straightforward by-the-numbers dram with a successful if uneventful brandy finish. It tastes exactly like you expect it to – Glenlivet with an extra couple of years of maturation and a glazing of grape-forward brandy. For $40, that's a slam dunk. I would happily serve this to a guest or bring it to a poker night (I did, in fact).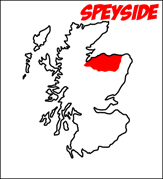 The Glenlivet (14 year) Cognac Cask Selection
40% ABV
ScotchNoob™
Mark
:
Acquired:
(750ml bottle) Total Wine and Spirits, Mountain View, San Jose, CA, $40