Wow, I haven't reviewed a Johnnie Walker since 2012. Although it's arguably the king of blended scotch, the entire brand tends to get ignored by modern whisky enthusiasts looking for authenticity and craftsmanship in a marketplace struggling with the triplet specters of demand for quality, demand for transparency, and demand for volume. That's why I was so surprised to taste (and enjoy) the recently-released Rye Cask Finish in the new Johnnie Walker: Select Casks line from Diageo; three refreshing things from an unexpected source:
An age statement on a newly-released blended scotch
An experimental cask finishing on a blended scotch
A newly-released blend with a good price-quality ratio (a reasonable price and it actually tastes good!)
…and all from Diageo, the undisputed king of the mainstream; the kind of place you imagine the phrase "surplus to requirements" and the word "streamlining" coming up a lot.
The first in the new Select Casks line, Rye Cask Finish is a blended scotch with a heart of Cardhu single malt, aged in first-fill American oak casks for at least 10 years, and then finished in ex-rye whiskey casks. The result is bottled at 46% ABV. Striking a triumphant balance between massive-scale industrial whisky and small-scale craft mentality, Rye Cask Finish is available for only $45 retail. I was able to find it recently at Costco for the phenomenal price of $30!
Nose: Wakes up a little hot – a few minutes in the glass settle the alcohol and allow for a deeper nosing. A nice, round grain-forward profile including breakfast cereal and toasted whole grain bread, coconut shavings and molasses. There's a lot more oaky sweetness (as opposed to malty sweetness) than one usually finds in a blended scotch.
Palate: Soft and syrupy. Moderate tongue burn, which finally recedes into a heavy coconut (like Redbreast 12) oiliness, and spicy cinnamon and clove.
Finish: Medium-long. Drying, with some oaky tannins but a larger emphasis on caramel and – dare I say it? Pumpkin spice latte. Fades with a black coffee-like bitterness, the one disappointment.
With Water: Aroma seems unchanged by a few drops of water. The effect on the palate is calmer, and brings a touch more sweetness. Water is optional with this one, but with the "roughness" of the alcohol bite, you might consider proofing it down slightly.
Overall: An interesting, and successful, blending of the "sweet and syrupy" effect of Scottish grain whisky with the robust flavor of malt whisky, and the spicy/oaky character of those two quintessential American whiskeys: bourbon and rye. While most scotch is aged in ex-bourbon casks, the first-fill casks chosen for this blend are very prominent in the final product and deliver a wallop of coconut. The finishing in rye casks was equally successful, with a sparkling spiciness on the tongue which integrates nicely with the other components. The only down marks come from the splintered finish, which starts out promising "pumpkin spice latte" and then goes full "bitter black coffee". At $45, a reasonable choice. At $30, a steal, and a Must Try.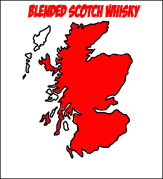 Johnnie Walker Rye Cask Finish (10 year)
46% ABV
ScotchNoob™
Mark
:

Acquired:
750ml bottle. Costco, San Jose, CA, $30 (normally $45)