I always like to support independent distilleries that produce reliable quality malt year after year. Glenfarclas is among that dwindling group. However, I also like to spend under $45 for my entry-level scotches. While the price of the 17 (review here) can be justified by its maturity and by comparison with the price tags of some competitor 18 year malts, the 12 is (in my opinion) not quite good enough to command a $50 price point. A little extra wood character (maybe at 14 or 15 years) or a deeper sherry influence via the use of some first-fill casks (or a sweeter sherry) might elevate it to compete with other malts in the midlevel category. As it is, though, Glenfarclas is a malt that benefits from long aging (as evidenced by their deep stocks of 30, 40, and even 50 year-old juice) and comes off slightly thin and insubstantial without that time in barrel.
I would say that this is a malt you should grab up if you see it on sale in the $40-$45 range, but otherwise should only fill the void if you're in need of mildly sherried Speysiders without much heft.
Glenfarclas markets itself as a Highland malt, eschewing the coveted Speyside origin designation. However, most texts categorize it with its brethren in the valley of the Spey due to its location.
Nose: Lemony, and light orange notes. Nice malt balance. Deep, but not very complex. Very mild sherry influence. A rest in glass reveals deeper sweetness and a slight nuttiness or nougat.
Palate: More citrus, in a light, crisp, refreshing way. A bit thin.
Finish: Nice, if somewhat short. Raspberry coulis and the barest shavings of fresh oak wood. Ends elegantly, without bitterness.
Overall: Good for a 12 year, but not a whole lot of sherry character. Would be great value at $40, but it suffers from a case of overpricing of entry level malt: Not substantially better than other sherried 12 year-olds, but priced at the psychologically detrimental $50 mark. Look for this one on sale, or splurge on the older malts in the line.
About The Distillery
One of only two Scottish distilleries that has remained in family ownership since its establishment, the Speyside distillery has six stills, and are some of the largest in the region, but still refers to itself as a "Highland" malt. The stills are direct-fired rather than steam heated, which the family claims is necessary to produce a weighty spirit. Its water flows from the heather-covered slopes of Ben Rinnes. Glenfarclas whisky is aged exclusively in ex-sherry casks, most from producer José-Miguel Martin. The whisky matures slowly in earthen-floored dunnage warehouses, with little loss to the angels. It might be said that Glenfarclas shows best after long aging, and the family releases a long series of bottlings into the 40 and 50 year-old range.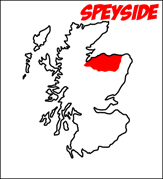 Glenfarclas (12 year)
43% ABV
Acquired:
(1/4 oz pour) K&L Spirits Tasting