I've had a lot of recommendations for this. Lesson learned: Commenters know what's up! This is good stuff at an amazing price. Read on:
Black Bottle is a blended scotch comprised of (according to the website) "seven of the island [Islay]'s classic malts alongside some of the finest grain available." Since Islay only has eight active distilleries (Lagavulin, Laphroaig, Ardbeg, Bowmore, Caol Ila, Bruichladdich, Bunnahabhain, and the too-recently-opened Kilchoman) and it's unlikely to contain any of the very rare and sought-after closed distilleries (Malt Mill, Port Ellen), I think we can safely say what's in it. In fact, before Kilchoman opened, Black Bottle's marketing verbage proudly proclaimed the inclusion of product from "all of Islay's single malt distilleries". The Black Bottle brand is now owned by Burn Stewart Distillers Ltd., which also owns Bunnahabhain, so it's also a safe bet that a lot of that distillery's malt makes it into the blend.
Black Bottle tends to win a lot of awards and has quite a following, even among malt-heads. Oh, here's the kicker: this guy's only about $20 a bottle in the US.
[
Update/Warning 2/29/2016
: In the comments below there have been multiple reports of recent bottlings of Black Bottle that were significantly inferior to the original bottlings. I haven't had an opportunity to review the newer bottlings, so tread carefully. Consider this a "Try Before Buy" until I have a chance to do a new tasting.]
Nose: Tarry, earthy overtones, with a smoky barbeque sauce-like sweetness. Oh God, now I can't smell anything but barbeque sauce! The alcohol tickle is piquant – despite the baseline 40% ABV, this crawls right up your nose. Undercurrents of chewing tobacco and mulching leaves.
Palate: Nice creamy mouthfeel. Green and vegetal up front, then some salted caramels and finally a burst of woodsmoke. Very tame on the tongue. Really, it's very orderly for something that's all Islay.
Finish: Only of medium length, despite all the peat. Sweet, burnt sugar, freshly-dug earth. Very mild bitterness in the back on the tongue. Remains sweet and smoky through the fade-out. Pleasant.
With Water: Several drops of water yield processed white sugar in the nose, but kill the smoke. Mouthfeel is not compromised, but the finish is more grassy and bitter. This doesn't need water – I wouldn't bother.
Overall: I can see why this has a following. It's peaty in all the right ways, has the thick, viscous mouthfeel that only a blend with good grain whisky has, and is the right price. At $20, this blows The Black Grouse, Finlaggan, and the mildly-peated Johnnie Walker Black Label out of the water, no contest. Really, a $20 peated blend and I can't find anything bad to say about it.
Also, it's worth pointing out that this bottle is a perfect choice for mixed drinks that call for a smoky note. While most of us wouldn't dream of pouring Lagavulin 16 into a shaker, Black Bottle has both the price point and the level of quality necessary to be great in a cocktail.
I suppose if you were jaded enough, you could say this blend is on the tame side of the peat spectrum. Personally when I'm in the mood for peat I want the full, intense single-malt experience, so I'm not likely to stock a bottle of this… but if you've been frustrated in your efforts to find a value blend and enjoy peat, this is your bottle. Either way, I'm calling it a "Must Have" because you can't find a better peated blend – or almost any blend, for that matter – for this price.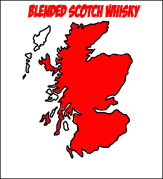 Black Bottle Blended Scotch
40% ABV
ScotchNoob™
Mark
: