Here's something new: A blended scotch whisky will soon be launched after being successfully funded on crowdsourced startup birthplace Kickstarter. Kickstarter is known for funding tech startups, video games, and gadgets. San Francisco resident Carin Castillo has successfully leveraged the service to fully fund (and then some) her dream of releasing her own blended scotch whisky. Alas, the Kickstarter campaign has ended, but you can still look forward to the imminent product release in late February 2013.
Carin was kind enough to send me a tasting sample. I'm always in favor of supporting local businesses and especially independent producers that challenge the entrenched factory mentality of big blends like Johnnie Walker. SIA, packaged in an attractive 750ml bottle and at an equally attractive 43% ABV, contains Carin's own blend of malts from "Highland, Speyside, and a touch of Islay" with an undisclosed proportion of Scottish grain whisky. It was all distilled, aged, and bottled in Scotland, qualifying it for the label "blended scotch whisky". Let's see how it tastes.
Nose: Honeysuckle, lavender, sprouted grains. Soft. Some light toffee. A bit grainy – a touch heavy-handed with the youngish grain? After a rest in the glass, there is a dose of crushed vanilla bean and the stuff in the center of Cadbury Creme Eggs.
Palate: Awesome creamy mouthfeel. Milky and very very soft. A feather-light alcohol burn (although overused, the word 'smooth' comes unbidden to mind). More sweet caramelized sugars, vanilla crème brûlée, and a little vodka.
Finish: Medium-long. Malted milk balls. Fades with marshmallow, apple juice, walnut skins, and marzipan.
With Water: Water brings more vanilla cake frosting to the nose, but flattens out the rest. If anything, it makes the palate sweeter – Mexican wedding cookies? I would say you can take or leave the water with this one. It certainly will support mixing in cocktails, especially at this proof.
Overall: This reminds me of Great King Street, with its soft grains, marshmallow, and toffee. I think the proportion of younger grain is a bit high, which causes a few high notes of vodka (not bad enough to call them 'paint thinner'), but the blender's touch is more apparent here than in many mass-market blends (Johnnie Walker comes to mind), and I'd far rather support this concept of blended scotch than the produce of big soulless factories. I don't taste the addition of peated malt, so maybe the 'touch of Islay' comes from Bunnahabhain (which would explain the walnut skins). This is certainly good enough to drink unmixed and un-iced, and will do very well in cocktails.
Carin has not announced a price point yet, so it's hard for me to give a solid recommendation. I believe products targeted at the low-to-mid-level spirits market live and die by their price points. My rough estimation is that SIA would be a very good deal at $35 a bottle, although my valuation system appears wildly out-of-date considering recent across-the-board price hikes. At any rate, your money is better spent on a product from a passionate small-business venture like SIA than on yet another bottle of Johnnie Walker Black Label. Go SIA!
[Update 11/10/2014: SIA is priced around $49 (see comment below). Alas, I do not believe this blend has the chops to command such a price, boutique or not. While it is well-blended, and you pay a "value add" premium for that, the components drag down what could be a worthwhile top-shelf blend. Comparing this side-to-side with Great King Street: Artist's Blend (which IS worth $45), the Artist's Blend comes out on top.]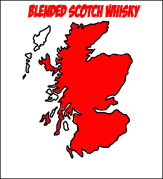 SIA Blended Scotch
43% ABV
ScotchNoob™
Mark
:
Acquired:
Review sample. Thanks, Carin!