Say what you will about Diageo, the giant monolithic overlord of scotch whisky, they understand that people want variety in their malts. Each of the distillery's Classic Malts series includes a "Distiller's Edition" bottling which is finished in interesting casks that complement each whisky's house style. While slightly smaller producers like Ardbeg, Glenmorangie, and Springbank run circles around this practice (releasing multiple interesting finishes yearly), Diageo maintains that with its massive volume, only production runs consisting of at least hundreds of barrels are worth its time.
Speysider Cragganmore (see my review of the distillery's 12 year-old bottling here), with a chocolatey/nutty house style, pairs perfectly with a sweet fruity ruby port finish in this yearly release. At around 13 years of age (this bottle was distilled in 1992 and bottled in 2005), only 300 casks per year are filled into emptied Sandeman's Ruby port pipes – made of Spanish oak – to finish for 6-18 months. The result is like a chocolate cherry cordial, both sweet and nutty and now I'm making myself hungry…
Nose: Currants. Black licorice, wood notes, vanilla extract? Sticky sun-drying plums.
Palate: There's the port! Acidic and winey. Red wine and balsamic vinegar. Juicy green grapes. Sweet like a chocolate cherry cordial.
Finish: Ripe muscat grapes, anise, and nutmeg. The finish is a bit dry… not so much of grape, but jam or tannin-y pressed grape skins.
Overall: Very interesting. You don't see a port finish every day, and this one is certainly one to ponder. I wish it had been bottled at a bit higher than 40% ABV. It's on the pricey side, but might be worth it if port finishes are your thing (see Glenmorangie Quinta Ruban for a cheaper alternative, although I've been told it's too cloying). Certainly something worth trying.
About The Distillery
Cragganmore was built in 1869 to produce spirit for shipping on the newly-linked Strathspey railway line. The distillery water is hard and comes from Craggan Burn. The distillery, named for the hill of Craggan More in Speyside, is owned by Diageo. Despite being part of the company's Classic Malts series and a component in Old Parr blends, Cragganmore lacks the popularity of many of its Speyside neighbors. Wooden washbacks, worm tubs, and an unorthodox combination of still shape, size, and lyne arm angle make for a very complex, meaty whisky.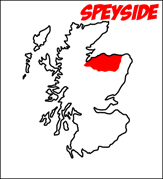 Cragganmore 1992 Distiller's Edition
40% ABV
Acquired:
(1/4 oz tasting sample) K&L Wines and Spirits, Redwood City, CA