Cragganmore. I had seen the bottle on the shelf at various whisky shops, and vaguely knew that it was part of Diageo's main Classic Malts series, representing Speyside. I had never tried it or even heard it talked about. Why would Diageo pick, out of the hundreds of prolific and historic sites in the heart of mainland whiskymaking – Speyside – Cragganmore to represent the region? Luckily I got a chance to try the three main distillery bottlings of Cragganmore at a K&L Whisky Tasting recently. Whisky Tastings are such an important way to try new whiskies and expand one's horizons. I wish they were more prevalent in the U.S.
Cragganmore is also the principal malt used in Diageo's wildly popular blend Johnnie Walker Black Label, providing the gentle malt base. The distillery-released 12 year-old comes exclusively from 2nd-fill bourbon casks, to reduce the woodiness imparted by long aging in first-fill barrels. At $44 a bottle, this isn't a bad deal and is worth considering against similar ex-bourbon-cask malts like Glenfiddich 15-year, Glenmorangie 10-year, and Oban 14-year.
Nose: Pale hay – indeed it smells like Johnnie Walker Black Label! (Imagine that). Very light… a bit of ground peanuts?
Palate: Hazelnut and milk chocolate. Peanut butter, lavender, floral honey.
Finish: Sweet processed honey. Nice oak tannins, small bitter note. Trails off with hazelnut skins.
Overall: Mild and inoffensive. No smoke, no fruit, just a soft cereal character and light accents of florals and nuts. Somewhat meaty, although the flavor profile is mostly balanced around the nuts. Certainly worth the money, and a contender for the "midrange Speyside" spot in your cabinet – especially if you like nuttier flavors instead of Speyside's more-common honey, apple, and heather style. I do wish Diageo would bottle this at 43% and without chill-filtration. The added body would really complement the nuttiness.
About The Distillery
Cragganmore was built in 1869 to produce spirit for shipping on the newly-linked Strathspey railway line. The distillery water is hard and comes from Craggan Burn. The distillery, named for the hill of Craggan More in Speyside, is owned by Diageo. Despite being part of the company's Classic Malts series and a component in Old Parr blends, Cragganmore lacks the popularity of many of its Speyside neighbors. Wooden washbacks, worm tubs, and an unorthodox combination of still shape, size, and lyne arm angle make for a very complex, meaty whisky.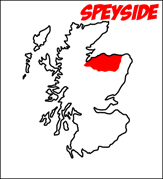 Cragganmore (12 year)
40% ABV
Acquired:
(1/4 oz tasting sample) K&L Wines and Spirits, Redwood City, CA