Awhile back (May 19, 2011) I tasted a 50ml sample bottle (plastic) of Chivas Regal (12 year-old) blended scotch. I hated it. After a few conversations I've come to realize that one cannot rely upon plastic miniature (or even glass, sometimes) bottles to deliver a representation of the actual product. Whisky companies either need to bottle these more carefully, or find an alternative way to distribute samples. Some people make brand loyalty decisions based on these things.
Anyway, I had an opportunity to sample the same whisky from a full bottle this holiday season. It's not as bad as I originally made out. Below find my new tasting notes, and, for the sake of completeness, my original article:
Nose: White chocolate and golden raisins. A small amount of berry jam and a great deal of unadorned cereal grain. The nose is quite muted, and the prickle very mild. I wouldn't call it elegant, but I would call it light. A dash of water brings out more grain, provoking a vodka-like dryness that I'm not fond of. I originally identified it as 'sharp alcohol fumes'.
Palate: Vanilla. Custard and sugar cookies. Very mild fruit – dried cherries? And some nuttiness… hazelnut and a hint of milk chocolate. Somewhat thin body, but eminently smooth. A bit of water creates a honeyed note.
Finish: Medium-long. Bit of a woody twist, with some bitterness showing through. Nut skins. Malty while fading, and golden raisins.
Overall: It's a very mild, very inoffensive blend with middle-of-the-road flavors. It's quite smooth, if that's all you're looking for, and the price is right… sub $25 or so. Great King Street: Artist's Blend is "better" in that its grain is better-integrated, its body is heftier, and it has more than just standard scotch flavor. It's also $20 more per bottle. On the other hand, Johnnie Walker built its empire on "standard scotch flavor," so it's not my right to dismiss it. If you want something you don't have to pay attention to for less than $30, you can't go too wrong with Chivas 12, but I urge regular Chivas drinkers to expand their horizons with an occasional bottle of sub-$40 single malt.
I'm leaving the "Not Recommended" mark, partially because the miniature was truly unappetizing, but also because I feel that there are better alternative for the money. Teacher's, Johnnie Walker Black, and Glenlivet 12 all have something extra for the same money, and Great King Street Artist's Blend is simply better all-around for an extra chunk of change.
[Original article, posted May 19, 2011, follows]

As another attempt to verify claims that blended Scotches can be a quaffable alternative to inexpensive single malts, I picked up a 50 ml miniature of Chivas Regal's 12-year-old blended Scotch. Chivas Brothers, now owned by Pernod Ricard, is a big name in Scotch and the company has been selling blends since 1801. This particular bottle is widely available and is almost iconic. Caveat: I've been having bad luck with 50 ml miniatures lately, and it's possible that my experiences below are not representative of the true product. That said, miniatures are a form of marketing, and my experience with this one dissuaded me from buying a full bottle. I intend to try a dram from a full bottle at my next opportunity, and I'll update this post at that time.
Nose: Sharp with alcohol fumes but little else – maybe some apricot and young white wine. A dash of water does nothing to improve it.
Palate: Smooth, but with a twinge of overdryness. Right before the sweet malt sets in midpalate, there is a heavy dose of wet cigarette ash. I want to like it, so I keep tasting and get a few notes of that apricot and a little fresh hay and something briny, like dried seaweed. A little water only accentuates the cigarette ash and adds an unappealing second-hand tobacco smoke note.
Finish has a layer of butter and caramel, but that ash comes back. Warming and medium-long, with a bubbling up of malty sweetness at the tail end.
Overall: Yes, this is Scotch, but it tastes like it's been watered down with paint thinner and peated malt feints. There is no earthiness from whatever peated malt was used, and the sweetness vanishes too quickly, leaving you with a mouthful of bottom-shelf stuff. I feel unsatisfied, like it offered me something of substance and then pulled a bait-and-switch. I now want a glass of something better. This has done nothing to elevate my opinion of blended Scotches.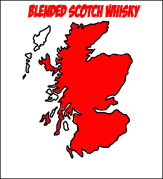 Chivas Regal (12 year) Blended Scotch
40% ABV
ScotchNoob™
Mark
:
Acquired:
(glass from a friend's bottle. Thanks Craig!)