Strathisla (pronounced "strath-aye-la") will go out of its way to remind you that it is the oldest continuously operating distillery in Scotland. Most of the output of the four small stills and small on-site traditional dunnage warehouse goes straight into Chivas Regal blends, and only a little of it sees distribution as a single malt. In fact, Chivas refers to Strathisla as the "heart" or "core" malt of its blends. While researching this bottling, I found that the whisky was previously available in the US before its 2013 packaging update, and has since been pulled from the US market. Whether this is a prelude to a relaunch or simply due to lack of interest, I can't say. Also confusingly, the ABV of the product appears to have dropped from 43% to 40% with the new packaging, leading to a lot of retailers having incorrect information on their websites. I even found a few retailers that listed BOTH 40% and 43% on the same listing. Oops.
Either way, the 12-year is aged in an undisclosed combination of ex-bourbon and ex-sherry casks, reportedly with a higher percentage of sherry.
Nose: Round, warm honey notes. A touch hot for 40% Abv. Orange blossom and honeysuckle. Very floral – reminds me of The Balvenie Single Barrel 15. A rest in the glass reveals some nuttiness and some lesser alcohols (grainy or grassy).
Palate: Thin body. Bakery treats and floral honeys dominate, with very little tongue burn. Very drinkable, and no off-notes.
Finish: Short. A bit of oaky tannins, and some fading nuttiness – cashew? – with only a subtle bitter note. Falls a little flat, becoming two-dimensional and stale.
With Water: A few drops of water open up some tropical fruits on the nose – kiwi – without losing anything. This extra tart note is welcome. On the tongue, it does suffer a bit of wateriness. The finish is unchanged. Water optional, but use very sparingly.
Overall: It starts promisingly, with full honey notes and a stable of floral notes that compares favorably with similar styles like The Balvenie. The dimensions begin to fall away on the tongue, and into a disappointing finish. Still, a very drinkable easy-going malt with few overt flaws. I would buy this happily around the $35 mark, but would regret paying $50.
About The Distillery
Founded in 1786, Strathisla is now the oldest
continuously operating
distillery in Scotland, although it has also gone by the name 'Milltown'. Hard water collects in the hills and flows into a reservoir, the Fons Bulliens Well, which serves as the distillery's water source, despite its location aside the River Isla. Four small stills produce unpeated malt after fermentation in wooden washbacks. Strathisla malt mostly goes into the Chivas Regal blends.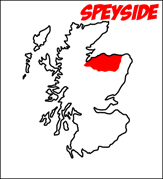 Strathisla (12 year)
40% ABV
Price Range:
$35 - $45 (estimated)