Benromach's entry-level 10 year-old bottling is aged in a combination of 80% ex-bourbon and 20% ex-sherry casks (all first-fill), and then married for 1 additional year in first-fill European oak oloroso sherry casks. The 15 year, however, continues that final aging for an additional 5 years (for a total of 6 years) in oloroso. This extra aging gives the whisky a mahogany color and a deep, resinous sherry character. The sherry barrels are sourced from Bodegas Williams & Humbert in Jerez. Bourbon barrels come from Heaven Hill and Jim Beam. For the 10-year and 15-year, Benromach uses malt peated to a delicate 12 – 14 ppm using Highland peat. This is to emulate the style of "traditional" Speyside whiskies, which were routinely malted using peat fires before the advent of new heating technologies (and new tastes in lighter-style whiskies for blending). The final whisky is bottled at 43% ABV with no added color.
I was able to taste the lineup at a tasting event in Redwood City, CA, along with the Peat Smoke, Organic NAS, and Imperial Proof 10-year.
Nose: Deep sherry. Butterscotch, fig, and strawberry jam. Complex, and a bit funky.
Palate: A bit hot. Oaky and buttery, with resinous dried fruit. There's a lot of depth to explore here, and I wasn't able do it justice with a single pour.
Finish: Medium-long. Tannic and a bit nutty, with fading slight bitterness. Surprisingly dry and timid, considering the depth on the palate.
With Water: A few drops of water highlight brighter fruit notes on the nose, and add peanut butter to the palate. The water also balances out the sherry and the tannic notes better.
Overall: Well, the balance that I like to see in a sherried malt is not really there. We have some funky, resinous sherry notes, but no fruit-forward "bomb". The jam notes are muddy, like red wine dregs, which pulls the whole experience off-center. I would enjoy this if it were budget-priced (like Glenfiddich 15), but at $100 retail, this is an easy skip.
About The Distillery
The Benromach distillery has a rocky history of lengthy closures and juggling ownership since its construction in 1898, but is now in the steady hands of independent bottlers Gordon & MacPhail. The new owners refurbished the distillery and began producing malt in earnest in 1998, and are now bringing a line of official bottlings to market. The distillery uses water from a spring in the Romach Hills, and proudly claims to use only first-fill barrels for aging whisky.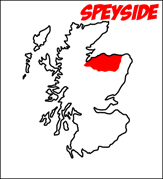 Benromach (15 year)
43% ABV
Acquired:
Tasted at an event, Redwood City, CA, in October 2016.