This keeps happening to me. I like Benromach well enough, especially the Imperial Proof 10 year-old, I love peated Islay whiskies, and I'm a fan of the lightly-peated (10-12 ppm) style used across all of Benromach's other malts. So, when presented with a glass of the "Peat Smoke" release from the distillery's "Contrasts" series, I was enthusiastic. However, just like The BenRiach Curiositas (which, on paper, I should love) and anything from Ledaig, I just cannot get behind the character of malt smoked with mainland peat.
The differences are obvious: Island (and Islay) whisky is made from malted barley smoked over fires of peat dug from ocean-adjacent peat bogs, often full of seaweed or beach grasses and continuously sprayed by seawater-laden winds. The effect of that peat is complex, funky, salty, medicinal, and downright bracing. Mainland peat, however, is composed of Highland grasses and shrubs. When barley is smoked with this peat, it becomes infused with the smells of a woodland campfire – slightly piney, but mostly one-dimensional woodsmoke. Whiskies made from this malt tend (in my opinion) towards extreme dryness, non-complexity (not a word, I know), and anemic sparseness. I just don't like them.
I guess what I'm trying to say is that I didn't like Benromach Peat Smoke… but you might! Don't take my word for it, especially if you've ever enjoyed a peated malt from a mainland distillery. Maybe I'm just unjustly prejudiced against non-Island peat.
That stats are right-on, though. The Peat Smoke release is made from barley smoked to 67 ppm (that's pretty high: Ardbeg is 55 ppm (except Supernova at 100 ppm) and Bruichladdich Octomore, the highest, is in the 160s) and is aged in first-fill ex-Bourbon casks (from Heaven Hill and/or Jim Beam) for between 9 and 10 years, although the bottle carries no age statement. The whisky is bottled at 46% ABV with no added color.
I was able to taste the Benromach Peat Smoke along with their standard lineup at a recent tasting event in Redwood City, CA.
Nose: Woodsmoke (smoldering campfire), vanilla, and light oak. Somewhat anemic, and very dry.
Palate: Black pepper and a lot more smoldering campfire.
Finish: A fading, slightly bitter, reprise of the vanilla-and-smoke motif.
With Water: A few drops of water add some floral notes – like white tea – which are quickly voided by the smokiness.
Overall: Not a fan. As with Curiositas and a few other malts I've tasted that were peated with Highland peat, I found it anemic, dry, and too simplistic. Especially at around $60, I'd much rather have just about anything from Islay, especially something full-flavored AND subtle, like Kilchoman Machir Bay.
About The Distillery
The Benromach distillery has a rocky history of lengthy closures and juggling ownership since its construction in 1898, but is now in the steady hands of independent bottlers Gordon & MacPhail. The new owners refurbished the distillery and began producing malt in earnest in 1998, and are now bringing a line of official bottlings to market. The distillery uses water from a spring in the Romach Hills, and proudly claims to use only first-fill barrels for aging whisky.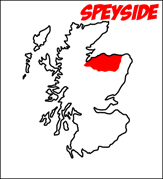 Benromach Peat Smoke
46% ABV
Acquired:
Tasted at an event, Redwood City, CA, in October 2016.