The 10-year flagship bottling is aged for 9 years in a combination of 80% ex-bourbon and 20% ex-sherry casks (all first-fill), and then married for 1 additional year in first-fill European oak oloroso sherry casks. For Benromach's Imperial Proof bottling, which is part of the distillery's classic lineup, this same whisky is bottled at 57% ABV instead of 43%. This is 100° in British (or "Imperial") proof. The confusing difference with American proof (easily calculable at twice the ABV) has to do with differences in the composition of the gunpowder used to provide flammable "proof" that a whisky was of adequate strength for sale. We can all smile and nod at the "100 proof" and then just go by ABV.
Sherry barrels used for maturation are sourced from Bodegas Williams & Humbert in Jerez. Bourbon barrels come from Heaven Hill and Jim Beam. For the 10-year, Benromach uses malt peated to a delicate 12 – 14 ppm using Highland peat. This is to emulate the style of "traditional" Speyside whiskies, which were routinely malted using peat fires before the advent of new heating technologies (and new tastes in lighter-style whiskies for blending).
This whisky is bottled without added color or chill-filtration. If you're looking for this overseas, it's labelled "Benromach 100 Proof" outside of the US. I was able to taste the Benromach lineup at a recent tasting event in Redwood City, CA.
Nose: Very hot (of course). Orange peel, and hard candies. And fire.
Palate: Redolent of orange peel and orange candies, although it's hard to taste through all that fire. Reminds me of a mix of cask-strength Dalmore with Ardbeg Corryvreckan, although with far less peat.
Finish: Long and drying. More of the same candied orange.
With Water: A generous splash of water helps bring out toffee flavors on the nose, and makes the palate sparkly with bright fruit, and a bit of earthy peat. I highly recommend braving the full strength for a sip or two, and then retreating to the water.
Overall: A bright, fierce whisky. Great both with or without water, but at full proof it's a tongue-blinding flashbang of orange oil and alcohol burn that prevents much deeper analysis. I'd call this a bit one-dimensional, but that one dimension is awful tasty. Interesting that the same 10 year that came across mushroomy and wood-centric would be so transformed into an orangey confection when bottled at a higher proof. Perhaps a consequence of barrel selection?
At $90, this is a little steep for me, as I'd prefer Ardbeg Corryvreckan for the same effect with more complexity and a deeper peat profile. A 10 year-old for nearly $100 is hard to stomach, even these days. Still, everyone at the tasting event agreed that this was the star, and the age-statement and craft overhead warrants a bit steeper price tag. If you like sherry and tongue-searing (nearly) cask-strength whiskies, you'll probably enjoy this one.
About The Distillery
The Benromach distillery has a rocky history of lengthy closures and juggling ownership since its construction in 1898, but is now in the steady hands of independent bottlers Gordon & MacPhail. The new owners refurbished the distillery and began producing malt in earnest in 1998, and are now bringing a line of official bottlings to market. The distillery uses water from a spring in the Romach Hills, and proudly claims to use only first-fill barrels for aging whisky.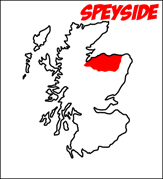 Benromach Imperial Proof (10 year)
57% ABV
Acquired:
Tasted at an event, Redwood City, CA, in October 2016.