Turns out, there are still deals to be found in single-malt scotch. I spotted this bottle of Singleton of Glendullan at 15 years of age (an age statement! Glory be!) for $35 and snapped it up. Even bad whisky can go into cocktails for $35 a bottle. Turns out, it's not even bad.
The Glendullan distillery is yet another one of those industrial factories that Diageo uses to spit out tens of thousands of liters of whisky every year, almost all of which goes into blends. There have been both official and independent bottlings of Glendullan for a long time, but they haven't been marketed or distributed with much effort, nor received much attention. Diageo uses this "Singleton" (which is an out-of-circulation word that refers to a whisky so rare that a broker had only one single barrel in stock) brand to market under-the-radar malts that it owns and is trying to turn into international powerhouses through sheer will (and marketing budget) alone. For some reason known only to the marketing prodigies at Diageo, the Singleton brand was launched to aim a different low-visibility distillery at each continent of distribution. That meant The Singleton was Glendullan to North America, Glen Ord to Asia, and Dufftown to Europe. Apparently they've done away with this "strategy" and will be distributing all three Singletons to all markets.
I have read – and I'm not sure I believe this – that The Singleton was recently the fifth best-selling brand of single malt scotch in the world. News to me.
The Singleton of Glendullan is aged in ex-bourbon casks of undisclosed provenance and bottled at 40% ABV. The range includes a number of age-stated expressions. This is the 15 year-old.
Nose: Lightly malty, and strikingly fruit-forward. Kiwi, green apple, faint coconut, and green banana. Not very much depth, but also not cloying. Delicate and pleasant. A rest in the glass ripens the banana, which begins to dominate.
Palate: Medium-bodied, almost syrupy. Initially sweet, with cookie dough and caramel. Medium tongue burn (more than expected for 40% ABV), resolving into slightly bitter charcoal, nut butter, and marshmallow.
Finish: Short. Fades with more marshmallow, oaky bitterness, and some muddy charcoal. Kind of a mess.
With Water: A few drops of water coax a deeply sweet buttercream vanilla frosting note from the aroma. Now it smells like banana cream pie. The palate seems less distinct, and there is more of a bitter walnut note. Try both without, and then with water.
Overall: Reminds me of Glenlivet 15, which is better (and only $3 – $5 more, depending on your market). The nose promises light & fruity, but the palate delivers sweet and doughy, and nary the twain shall meet. The finish is a muddle and doesn't resolve. Forgettable, but inexpensive. You won't regret dropping $35, but you would regret dropping $50. If you see Glenlivet 15 for the same (or similar) price, I'd suggest starting with that one instead.
For the combination of price, age statement, and drinkability, this is Recommended.
About The Distillery
The Glendullan distillery was established in 1897 in the city of Dufftown in the Speyside region of the Scottish Highlands. The distillery sources its water from Conval Hill springs and also process water from the river Fiddich. There are three wash stills and three spirit stills. The site is now owned and operated by Diageo, and most of its output goes into blends like William's and Old Parr.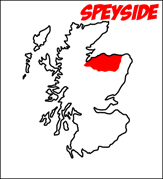 The Singleton of Glendullan (15 year)
40% ABV
Acquired:
(750ml bottle), K&L Wine Merchants, Redwood City, CA $35