Compass Box discontinued the popular Eleuthera in 2004, citing lack of availability of one of the blended malt's key components. John Glaser, ever the romantic, has been trawling the secondary cask market in Scotland looking for the perfect replacement. He found it in the form of an "extraordinary" cask of 19 year-old Allt-A-Bhainne in ex-bourbon wood. Alas, there was only one such barrel and his re-creation of Eleuthera was fated to be a limited edition, yielding 12,018 bottles.
Utilizing a similar recipe to Eleuthera, The Lost Blend is composed of Clynelish (a John Glaser staple), Caol Ila, and the aforementioned Allt-A-Bhainne. Eleuthera was intended to provide an easy-drinking alternative to the fiery peated whiskies that dominate the single malt scene. Although the picture above is too small to tell, each of the three randomized labels is adorned with "lost" things such as the RMS Lusitania and the Dodo. Cute.
The whisky is bottled at 46% ABV, is not chill-filtered nor colored, and retails for $120. Thanks to Debbie and Chris at The Collective PR for the sample!
Nose: A tangy dose of Caol Ila peat meets the nose, accompanied by the clear, sweet aroma of peach. Yum. Waxy Clynelish underscores both, with its uncanny combination of candlewax and vanilla. The two are playful, and thankfully not overly smoky or earthy. The combination is ethereal.
Palate: Waxy body, and the charry smoke of Caol Ila cuts through immediately. There is a light, chardonnay-like fruitiness underscored by buttery toasted oak. Again, the smoke and fruit take turns at the forefront, neither washing the other out or becoming muddied.
Finish: Medium-long and warming. The peat continues to smoulder as it goes to charcoal. The fruit fades quickly, leaving no bitterness.
With Water: A few drops of water punch up the peat smoke and also reveal something floral, like lavender. Certainly try this with a few drops.
Overall: This is (if memory serves) much more successful than Eleuthera was at both taming Islay smoke and marrying it to fruit. The clean, crisp notes of peach and white grapes carry through from nose to finish, never allowing the peat to dominate. Masterfully blended – a truly excellent example of skilled blending and what it can accomplish.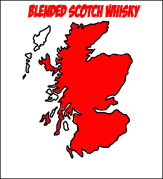 Compass Box – The Lost Blend
46% ABV
ScotchNoob™
Mark
:

Acquired:
(50ml sample) Courtesy of The Collective PR. Thanks Debbie and Chris!