While I would love to bring tasting notes and reviews to my readers exclusively about cutting-edge, up-to-date scotch with wide availability… sometimes I'm just flat-out late to the party. I picked up a 50ml miniature of this vatted malt – sorry – "blended malt scotch whisky" from a bargain bin of forgotten minis at a Berkeley, CA liquor store. Full bottles of the whisky itself are long since sold out and largely unremembered. Why am I telling you about it now? Because I don't want to waste a full tasting note. Sorry. 🙂
The product itself has been discontinued due to a lack of malt availability. Sometimes blended malts like this depend on found single-barrels that cannot be easily replaced or replicated once they run dry. I doubt there's a lot of recharred Clynelish floating around. In this case, John Glaser of Compass Box was looking for a way to make a smoky, peaty blend which lacked the "fireplace" aftertaste often associated with the heavier Islays. He wanted an easy-drinking peated malt. To achieve this, he blended a refill Caol Ila (one of the lightest Islays, likely made even lighter by the refill barrel) with a refill Clynelish (a partially-sherried Highlander with mild waxy notes), and a little bit of Clynelish from a re-charred barrel. The latter was probably included to up the wood character which would have been missing from the refill casks.
The result was released at craft presentation (46% ABV, no color added, no chill-filtering) for around $50 a bottle. You might still find a few dusty bottles of this floating around in bargain bins or in collections. You could probably also find the miniatures somewhere, as there seems to have been some kind of major campaign to distribute them widely to liquor stores.
(Note: Initially there is little nose – let it breathe a few minutes after pouring).
Nose: The Caol Ila is right there up front – smoked paprika, maple bacon fat, and smouldering hay. Behind it lurks some orange blossom honey and a hint of floral notes – elderflower? A few drops of water amps up the florals, but also increases the nose tickle.
Palate: Medium body, with big peat in the lead. Muddy and woody at first, but quickly yielding to the sweeter malt notes, which blend well with the peat. There's nothing subtle here – wood char, salty peat, and malty sweetness. These overshadow anything more delicate that might have been present in the original malts. A few drops of water seems to meld the flavors a bit better – and also brings out a little tangerine and lemon peel.
Finish: Medium-long. A bit salty – the peat has become a little astringent and the oak turned mildly bitter. I wish for some of the highland malt notes here, but unfortunately they're gone. It leaves me with a hint of nuttiness. With water, there is a lot of citrus on the finish, balancing the bitter notes much better.
Overall: I'm not sure I would call this "easy drinking", and I don't think I would buy a bottle (if it were still available!). John did manage to achieve part of his goal: a big, peaty Caol Ila with a powerfully sweet highlander to give it some background. The peat isn't off-putting, but it doesn't allow for much elegance to come through. The best part is the nose, which deftly combines the best attributes of those two malts. If you do come across a dram, try it with a little water.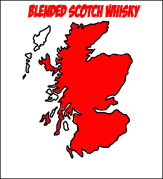 Compass Box Eleuthera
46% ABV
ScotchNoob™
Mark
:
Price Range:
$50 (no longer available)