Here's another Compass Box Limited Edition (there are so many to choose from!): The Circle No. 1. In 2018, Compass Box created an industry program called The Circle with the goal of connecting the bartending trade with the blending trade to further education and creativity in bartending. After a series of challenges, the first annual winner, Rosey Mitchell of London's Three Sheets, got to create a limited edition Compass Box blend. Released in July 2019, the aptly-named The Circle No. 1, is a collaboration between Rosey and Compass Box whiskeymaker Jill Boyd.
Together, they created a blended malt scotch whisky that they describe as "Sunshine in a Glass". It is comprised of a majority of first-fill ex-bourbon Tamdhu, about 15% refill ex-sherry Clynelish, a little ex-bourbon malt "from Orkney" (which means Highland Park or Scapa – I'd guess HP since it's peated), and a scant 1.5% of Compass Box's standard French Oak cask Highland blend. If you'd like to know the ages of these components, you are free to email hello at compassboxwhisky.com to ask (I'm not allowed to disclose them here). Suffice it to say this isn't young whisky – or super old: nothing is over 21 years of maturation. The final blend is bottled at 46% ABV with no added color and with no chill-filtration. They did decide to use "Light 5 Micron Filtration", which I'm guessing is a type of barrier filtration, but I haven't heard of it before. Barrier filtration is the typical industry alternative to chill filtration and is necessary to remove bits of char and debris that come from the cask.
If Compass Box continues its bartending program, we can expect to see an annual limited edition of The Circle (hence the "No. 1").
I received my tasting sample thanks to Debbie at The Collective PR.
Nose: Light and apple-y, like a very fragrant hard cider. Floral, with a ton of honeysuckle and clover flowers. As it sits in the glass, the fruit evolves through white peach, tart white (Rainier) cherries, and finally to caramel apple. There are notes of nougat, vanilla taffy, and white chocolate. Lovely, but very subtle.
Palate: Thick, syrupy body. Waxy Clynelish malt up front, with dense nougat and peanut fudge. Very little tongue burn. It takes awhile for the sherry notes to appear – mostly as dried apple and slightly bitter grape skin tannins. I do not detect any peat from the Highland Park (if that's what it is).
Finish: Medium length. More nougat, but only a whisper of the fruit notes from the aroma. Some bitterness (oak and/or charcoal). Fades with a bit of charcoal and a swath of licorice (anise). On subsequent tastings, I find a nice thick layer of sweet malty barley (like breakfast cereal) here.
With Water: A few drops of water bring the dried apple notes to the aroma, but mute some of the subtle floral notes. The palate and finish both get a little more tart bite. Try without water first, and then add just a little to see how it changes for you.
Overall: The apple notes are subtle and harmonious on the aroma, which is fantastic. The palate mostly seems like your average Compass Box blended malt, and the finish is sparse but solid. The sherried components are very mild, providing slight fruit notes rather than a fruit-forward character. This fits the bill as a "Summer" drink – light and complex and fun. "Sunshine in a glass" is a very accurate description.
Unfortunately, I cannot in conscience recommend a $150 blended malt, for Summer or any other time. I've become used to Compass Box charging a premium for its artistry, but this is not a $150 sip unless $150 is an irrelevant amount of money to you. Every time I evaluate another expression from the company, I get the nagging feeling that John Glaser is no longer making new whisky intended for me. Compass Box continues to price me out of the market, alas.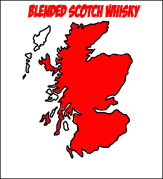 Compass Box – The Circle No. 1
46% ABV
ScotchNoob™
Mark
:
Acquired:
(50ml review sample) Thanks Debbie!