Arguably, times are bad. The economy is still in the dumps, unemployment is high, and the whisky industry is having a field day with rampant price increases. In the midst of this less-than-favorable market, there are still a few good ways to get a deal. Bank Note blended scotch from the Morrison family (owners of celebrated independent bottler A.D. Rattray) is 1 liter of blended scotch for $20. That's cheaper than… well, just about everything else. Given the current market conditions, at that price, it -should- taste like garbage. It doesn't. If you want something to lower your average yearly spend on scotch without having to buy Red Label, stop reading this now and go buy some of this. I have no idea how long the Morrisons can maintain stock at this price, but I can't imagine they've got an unlimited supply; either quality or price will have to give as the market continues to balloon.
Bank Note is a blend of 40% single malts to 60% scotch grain whisky. That's WAY higher than most blends, even though one must assume the malts aren't worthy of bottling as single-cask products (or A.D. Rattray most certainly would have done so). At 43% ABV and 5 years of age (minimum), and a bonus 250ml due to the larger bottle, it's hard to justify buying any other low-end blend as long as this is available. It's no SIA or Great King Street, but it's eminently drinkable, mixable, and at this price I swear I can taste the money I'm saving. Seriously, I should include 'VALUE' in the tasting notes!
Update, 7 years later, I have it on good authority that the quality of this blend has decreased as the Morrison family no longer has access to the mature whisky stocks that once powered Bank Note. Alas, I don't have any details on what that means, but I have re-reviewed this with a newly-purchased bottle. Also, there's now a peated version on the market.
Nose: Peach (indicating mild sherry), some brash young grain. Somewhat lemony, but otherwise standard cereal notes. Light and inoffensive.
Palate: Mid-creamy body. Nougat. Lemon gummy candies. Cocoa nibs. Very mild tongue burn.
Finish: On the short side. Caramel and freshly-baked bread. The lemon notes turn a little bitter – like lemon pith.
With Water: Reveals some vanilla in the nose, thins the body, and washes out some of the more interesting flavors. Perhaps more citrus on the finish, but I wouldn't bother.
Overall: It's certainly not bad. Compared to every other $20/liter blended scotch, it stands far above the competition. It lacks a substantial aroma, but presents a pleasantly sweet array of notes on the tongue, and does not reveal any of the off-flavors I usually get with young grain. The finish is, like the nose, unremarkable. I would still prefer Great King Street if I had only one blend, which is altogether more elegant and more balanced, but it's also more than twice the price. I recommend this over Johnnie Walker Black Label, Chivas, Dewars, or any other sub-$40 blend. If this product remains available for this price, it will become my standard cheap blend. A rare example, these days, of whisky sold for a price below its value. If you need something cheap to get your wallet through the price increases we're seeing lately, look no further.
Note: The "Must Try" rating reflects the quality-to-value ratio of this bottle. If you're not looking for an alternative cheap blend, then this is not "must"-anything for you.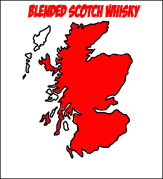 Bank Note Blended Scotch
43% ABV
ScotchNoob™
Mark
:

Price Range:
$20 PER 1 LITER (1000 ml)
Acquired:
(bottle) K&L Wine Merchants, Redwood City, CA. $20.