Diageo's Johnnie Walker range added a Platinum Label to its pantheon of blended scotches in 2013, kicking against the goad of the NAS trend by including an 18 year-old age statement on the label. The blend contains whisky from 20 to 25 distilleries (likely most of them owned by Diageo) and is advertised as having a predominantly Speyside character with some hints of Islay peat. The cynics among you will notice that Diageo removed an 18 year-old product from the market (the old Gold Label), replacing THAT with an NAS blend, and then released a more expensive-sounding Platinum bottling at the same age, with a higher price tag. Crafty, Diageo. Crafty. They are, however, different blends with different goals. (Gold 18 was sweet and fruity, Platinum is dryer, more perfumed, and smokier.) Apparently, Diageo expects you to give Platinum as a gift, since it's more "special" than Black, Green, or Gold, and not stratospheric in price like Blue. I don't know about you, but I've never received an $80 bottle of whisky as a gift (except from my parents, who know to ask me what I want first!), but I have no doubt that Diageo would like you to start doling out Platinum to your friends, family, and colleagues.
As usual with Diageo and the whisky industry at large, there's plenty little information about the actual makeup of Platinum. It's bottled at a watery smooth 80 proof (40% ABV), the legal minimum, and consists of a blend of grain and malt scotch whiskies that are each at least 18 years of age. That's… yep, that's it. It's probably got a bunch of Caol Ila in it, some Clynelish, and… your guess is as good as mine.
Nose: Gently perfumed, apple blossoms, white tea, ginger, juicy pears, and an undercurrent of fresh banana. This smells more like a carefully-crafted perfume than a scotch whisky. The effect is light, with no nose tickle and only very faint oak or malt notes. One could be forgiven for thinking this was a pear eau de vie by the aroma alone. After a rest in the glass, most of those volatile aromas escape, leaving a heavy banana custard note.
Palate: Medium bodied, almost syrupy. Slight tongue burn. A bit of bitter barrel char arrives upfront, which is off-putting. The banana reasserts itself, along with assorted fruit notes. The oaky bitterness persists. There are some flavors of bakery sweets – banana cream pie comes to mind, as do buttered scones. The whole is marred by that weird tannic charry bitter note, however.
Finish: Short. Charcoal, apple skins, and a fading nutty bitterness, like scorched almonds. There is a marzipan note on the tail end of the finish.
With Water: Several drops of water reawaken the volatile esters in the aroma, including the flowers and fruits. The palate becomes somewhat sweeter – like vanilla crème brûlée – but the bitter note remains. There is more sparkle on the finish, which seems a little longer. This clearly benefits from the addition of a little water. (But not too much at 40% ABV!)
Overall: I expected a bit more surface-level quality from a premium Diageo product – usually their whiskies (especially those with age statements) are more polished than this, and simply lack depth or complexity. Instead, this tastes like the kind of leftover barrel of no-name malt that the independent bottlers pass over and which ends up in a grocery store label bottling. In fact, the grain whisky in this blend is (I suspect) what elevates it, giving it that syrupy body and some of the lighter fruit-and-flowers notes. It wasn't until after the fact (I taste whiskies before reading about them, when possible) that I realized all that bitter charcoal was actually supposed to be smoky Islay peat, which appears to have been lost in translation. I will admit that the whisky has a delicate aroma with an excellent perfumed balance of fruits and flowers, and I could certainly pass the time just smelling this whisky. I just didn't enjoy anything that came after.
I would be disappointed to taste this after laying down $80 or more for a bottle. If you're curious about the Johnnie Walker range, try it at a bar.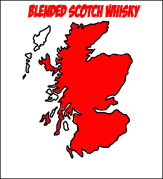 Johnnie Walker Platinum Label (18-year) Blended Scotch
40% ABV
ScotchNoob™
Mark
:
Acquired:
Sample from a friend's bottle.