You know how on the Internet there are rabbit holes of information that are populated by fanatics who have devoted themselves to topics so esoteric you didn't even know they were topics until you stumble onto them? Apparently such is the case with Haig Dimple (known as Dimple Pinch in the US market). It's an ancient – in whisky industry terms – brand of blended scotch now owned by Diageo, but its long history of association with "luxury" or "premium" scotch means there are many old bottles floating around, some with actual secondary market value. You can find websites that will help you identify your bottle and estimate its value, and you can even find whole aficionado websites dedicated to the brand.
I have to wonder if the UK name "Haig Dimple" – a reference to the "dimple" in the center of the eccentric round bottle – was renamed to "Haig Dimple Pinch" when it was released in the US because marketers assumed that Americans didn't know what a "dimple" was?
For some newer entrants to the whisky industry, your only exposure to Haig might be from the marketing debacle a few years ago with Haig Club, a wildly overpriced blend sold in a bottle (and with marketing to match) indistinguishable from a bottle of perfume.
Before we proceed much further, I must warn that a 15 year-old bottle of Haig Dimple formerly contained scotch at 43% ABV, while most retailers are now carrying a 40% ABV presentation. I'd like to blame inflation, although I think the transition happened before that, apparently with little fanfare. My sample was bottled before this particular faux pax, so this review applies to older 43% ABV presentations of Haig Dimple.
The blend itself is made from a "high proportion" of malts – something every blend claims, these days – primarily from Diageo-owned distilleries Glenkinchie and Linkwood, and probably uses grain whisky from Cameronbridge distillery which aptly used to be called the Haig distillery. All components are at least 15 years of age.
Nose: Smells like it has sherry influence – dried figs, balsamic reduction, fresh dates. A strong nose tickle (despite the low ABV) suggests a rest in the glass. After the rest (and the alcohol vapor dissipates) there's a dense, buttery caramel and butterscotch note that pairs very nicely with the sherry elements. Dessert-like, and nearly decadent.
Palate: Soft mouthfeel, and silky. A negligible tongue burn is followed by raisin, brown sugar, and charcoal-flecked malt. Much drier than suggested by the aroma, and somewhat flat. The fruit notes are very subdued here.
Finish: On the short side. The dried fruit notes return on the finish, along with hazelnuts and bitter walnut, but fades quickly without evolving.
With Water: A few drops of water reawaken that nose tickle, necessitating another rest in the glass. After the rest, the aroma is similar but duller. The palate seems unaffected, although the finish is a little livelier, with more fruit. Water not necessary (isn't helping) here.
Overall: This starts very strong, flush with classic sherry aromas and dense candy-like caramels but then appears confused on the tongue and downright absent on the finish. In other words, it promises much to the nose but fails to deliver. On the plus side, there are no detectable off-notes due to the grain whisky component (nor should there be, at 15 years) and the dram is very well-integrated.
Still, I'd rather drink any sherried single malt in this price range over this. Glendronach 12, GlenAllachie 12, Tamdhu 12 are straight better. I will say that if you can find Haig Dimple at the low end of its (widely variable) price range, between $30 and $35, it's quite a good deal for 15 year-old whisky. That said, I can't vouch for the 40% ABV presentation which is on shelves right now.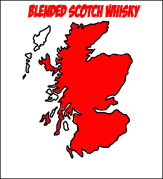 Haig Dimple Pinch (15 Year) Blended Scotch (43% ABV Presentation)
43% ABV
ScotchNoob™
Mark
:
Price Range:
$35-$49 (estimated)