Man, GlenAllachie has absolutely burst onto the scene lately. Like many Scottish distilleries, it was built in 1967 mainly to provide malt whisky for blending. It exchanged hands several times during the dark ages of the scotch industry's "whisky loch" and spent many years mothballed. I hadn't even heard about the distillery until 2020. In a story that's eerily similar to Bruichladdich's, the neglected facility was bought in 2017 by a plucky group of private investors, who have since turned the brand into an international powerhouse, apparently purely through the power of marketing. The new owners released a new range of age-stated whiskies with new labels in 2018. This range is entirely 46% ABV (or higher), not chill-filtered, and has no added coloring.
GlenAllachie previously used mainly ex-bourbon barrels to age its blending stock, but there were enough barrels laid down in sherry casks to provide some variety to the stocks that master distiller Billy Walker uses to create the range. There are also a number of cask finishes in the portfolio, which makes me think the first thing the new owners did was re-rack a bunch of casks into port, rum, Pedro Ximenez sherry, etc. to have more choices for bottling. The distillery does use some peated malt, purportedly about 20% of their production is peated. None of the current retail releases include this malt, though, so we'll have to wait a bit longer to see what peated GlenAllachie is like.
Official information is a little scarce, but online sources claim the 12 year is aged in a combination of virgin oak, PX sherry casks, and oloroso sherry casks. I couldn't tell if those are full-term sherry or if they are finishes, or what kind of virgin oak that is (American? European? Was a swallow involved?) or if there was ex-bourbon in the mix that they aren't mentioning. So, I reached out to my contacts (that is to say I begged the only industry contact I have for information) and learned that there is, indeed 1st- and 2nd-fill ex-bourbon involved. The virgin oak is American white oak and those are re-racked (finished) not fully-matured. The vatting uses both fully-matured and re-racked sherry casks (both PX and oloroso). This clear up most of my questions: obviously GlenAllachie didn't have a bunch of full-term virgin oak casks sitting around when the new owners took over. The label information is scarce and vague because like a lot of official brand bottlings, the master distiller uses a variety of casks to achieve a consistent house character. Still, it burns me a little that the readily-available retail materials don't mention ex-bourbon but do mention the virgin oak. That makes this much closer, category-wise, to The Balvenie DoubleWood 12 than something 100% sherry like GlenDronach 12.
Like the rest of the lineup, it is bottled at 46% ABV without added color or chill filtration.
Nose: Initially shy, this requires a little rest in the glass to open up. When it does there's a piercingly fruity, fresh sweet red wine note. Hidden below that are notes of chewy caramel, pear drops, dark chocolate, and buttery shortbread or maybe graham cracker. There's more complexity below – as it rests in the glass it slowly reveals more. Give it time.
Palate: Pleasantly thick body, almost syrupy. A strong dark chocolate fudge note kicks off the party, followed by a mild tongue burn. After it clears, there's some slightly bitter charcoal, buttery oak, and just a smear of grape jam.
Finish: Medium-long. The chocolate remains and turns bittersweet, like dry cocoa. Some of the other bitter elements creep back in, but remain balanced. Fades without evolution.
With Water: A few drops of water increase the nose tickle, necessitating another rest in the glass. Some of the jam comes forward and the bright red fruits are reawakened. The palate seems thinner, but sweeter. If your dram becomes a little boring, add some water to wake it up, but definitely try it without water first.
Overall: I can't remember ever having a malt that tastes so much like chocolate. I expected some sherry elements from the aroma, but the fruit is decidedly in the background while the chocolate notes – bitter and sweet alike – take center stage. Certainly there are no off-notes, making this a very accomplished dram. The price seems right, as it's an upgrade from your standard 12 year-old Speysider. I can't decide if it quite reaches the heights of GlenDronach 12 (which is still a little cheaper), but it's no doubt an evenly-matched fight and worth of your attention.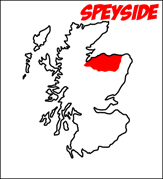 GlenAllachie (12 year)
46% ABV
ScotchNoob™
Mark
:

Acquired:
(750ml bottle) purchased at Caskers.com, $59