A conundrum, the 12 year-old expression of The Glenlivet can be found in a surprising array of American retail outlets. I got my current bottle at Rite-Aid for $24. One might be tempted to write off the biggest-selling (and one of the most inexpensive) Single-Malt scotch in America as a "for the masses" bottling of quality-compromised mass-produced watered-down imitation of real Scotch whisky. However, a taste of The Glenlivet reveals a delicate balanced whisky with floral and citrus flavors, a bright fresh minerality, and a lingering sweetness. The Glenlivet epitomizes the "daily dram" concept of a whisky that you don't have to feel bad about drinking frequently.
While unable to stand up against heavier, flavor-forward Scotches like The Macallan and Aberlour, nor able to compete with the delicacy and complexity of pricier Speysiders like The Balvenie, this Scotch is nevertheless a must-have for beginning whisky drinkers, and even commands a constant presence in the cabinets of many enthusiasts.
While The Glenlivet is aged partially in second- or third-fill bourbon casks, it does not seem to be in them long enough to pick up any heavy oakiness. At most, a background of vanilla is derived from the wood.
Color: Pale gold.
Nose is a limited range of sharp and herbal notes, not silky or caramel-like. Aromas of grass, hay, and green apple. There is some undertone of sugar and butter, like stale shortbread cookies.
There is a cereally brightness to the flavor, developing out of the initial burn with notes of vanilla, spices, and brown sugar. Reminds me of hot oatmeal with brown sugar and cinnamon. There is something Bourbon-like about the dry notes, like a corn syrupy sweetness instead of a malty one, but it is a pleasant sweetness.
The finish is of medium length, but rounds out the earlier flavors, and does not lessen the experience. More cinnamon.
All in all, this is a two-dimensional whisky with some pleasant flavors and no outstanding negatives. It has no outstanding positives either, but for a single-malt that you can get for $24 at Rite Aid, this is a good one to keep on hand. Its tame flavors also make it a prime starter whisky for newbies.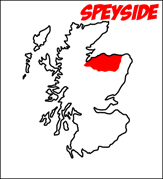 The Glenlivet (12 year)
40% ABV
ScotchNoob™
Mark
:
Acquired:
(Bottle): Rite-Aid, Folsom, CA $24.