Glenlivet, the kind of whisky you get on an airplane if you ask for scotch, isn't generally thought of as a connoisseur's whisky. Like the Budweiser of single-malt, its standard 12-year expression is mild, watery, and (above all) cheap. That's not to say it's all bad – I like keeping a bottle of it around for nights when I don't feel like an expensive or complicated dram. I particularly enjoy the house characteristic green apple note.
The Glenlivet Nadurra, now, is more my speed. Not colored or chill-filtered and bottled at cask strength, the Nadurra supplies what the standard expressions are missing: concentrated flavor. It's been aged at least 16 years in only ex-bourbon (American oak) barrels. My admittedly blurry notes from WhiskyFest 2011 include this phrase about the Nadurra: "Very nice. Worth buying." — what more can I say?
Bottled 09/11 (Batch 0911p) at 53% ABV.
Nose: LOTS of vanilla. Am I allowed to say "Vanilla Bomb"? Perfumey. Some light, but non-cloying touches of butterscotch. White peach and buttered toast. A satisfying, concentrated aroma.
Palate: Significant burn for the relatively low ABV. Raspberry comes through as the burn subsides, as does candied ginger and some of that vanilla. Surprisingly little evidence of the house-characteristic green apple, which may be buried under all of that bourbon-cask influence. Progresses towards nutty, with marzipan and some coconut.
Finish: There's the coconut. Medium-long finish and finally some sweet maltiness.
Overall: If you're looking for a good solid Speysider without heavy-handed wine finishes or sherry aging, this one fits the bill, and isn't overpriced. Also, if you'd like a gentle introduction to cask-strength whiskies, this one is a lot easier to handle for a first-timer than something like Aberlour A'Bunadh or a cask-strength from Islay.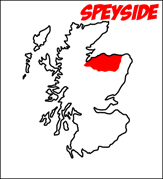 The Glenlivet Nadurra
53% ABV
ScotchNoob™
Mark
:

Acquired:
(1/4 oz tasting sample) K&L Wines and Spirits, Redwood City, CA