After a reasonably positive experience (especially at this same price-point) with The Singleton of Glendullan 15 year, I thought maybe I was heading for the discovery of another hidden gem with this 12 year-old Singleton of Dufftown. There's also something exhilarating about tasting whisky from a distillery that you've never experienced before… a treat that becomes rarer the longer you engage in this hobby. While disappointment (or, more likely, indifference) is possible, at least you can mentally 'check off' another distillery.
Dufftown is the name of a town in the Speyside region of the Scottish Highlands. The town itself is home to a number of distilleries including Balvenie, Glenfiddich, Mortlach, and others. This means that the name of this particular bottle could be translated as "a single malt made in a town where a lot of other single malts are also made". I guess that doesn't ring enough to make the Diageo marketing materials. Dufftown is, in fact, a small distillery in the town of Dufftown, with the official name of "Dufftown-Glenlivet Distillery" which does nothing to alleviate the confusion (it refers to the valley – glen – of the river Livet, not the Glenlivet Distillery). The Diageo-owned distillery has six stills and was established in the 1890s. The range includes a number of NAS malts, as well as a 15-year, 18-year, 21-year, and 25-year. This 12-year is aged in a combination of ex-bourbon and "European oak" casks, which could mean a lot of different things. It's bottled at 40% ABV.
Diageo uses this "Singleton" (which is an out-of-circulation word that refers to a whisky so rare that a broker had only one single barrel in stock) brand to market under-the-radar malts that it owns and is trying to turn into international powerhouses through sheer will (and marketing budget) alone. For some reason known only to the marketing prodigies at Diageo, the Singleton brand was launched to aim a different low-visibility distillery at each continent of distribution. That meant The Singleton was Glendullan to North America, Glen Ord to Asia, and Dufftown to Europe. Apparently they've done away with this "strategy" and will be distributing all three Singletons to all markets.
I have read – and I'm not sure I believe this – that The Singleton was recently the fifth best-selling brand of single malt scotch in the world. News to me.
Nose: Bubble gum. Dense fruit punch aromas, Red Vines, and a hint of anise. A rest in the glass neither adds nor removes anything from the equation.
Palate: Thin body. Sweet again, with the same gum and punch notes. Orange taffy, vanilla, and cream soda. Negligible tongue burn. Sweet and fruity, but lacks complexity.
Finish: Short. The fruits have become faint, but the candy flavors (corn syrup) remain. Fades very quickly without additional notes.
With Water: The addition of a few drops of water initially shocks the aroma, washing out all of the fruit. It comes back slowly, and without a noticeable change. The flavor and finish are the same, with the addition of a green apple note. Water optional, but not needed.
Overall: The very definition of one-dimensional. This absolutely smells and tastes like alcoholic fruit punch. On the upside, there are no off-notes, no bitterness, and no "paint thinner" notes that often accompany inexpensive malts. On the downside, there is a total lack of complexity that, aside from the initial fruity surprise, leaves the drinker wishing for something more. You can definitely do better at this price-point, with the aforementioned Glendullan 15 or even your standard Glenlivet 12, Glenfiddich 12, or Glenmorangie 10.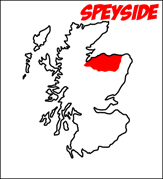 The Singleton of Dufftown (12 year)
40% ABV
ScotchNoob™
Mark
: