These notes are for the Glenfiddich entry-level 12-year-old distillery bottling, with its distinctive triangular green glass bottle.
Nose: Dry, crisp, and earthy without any smoke. A hint of fresh-squeezed lime and green grass.
Palate: Thin, watery body. An initial warming wave of caramel popcorn and hot oatmeal with brown sugar. Not picking up any fruit at all. Just a mellow, baked sweetness with elements of stale cereal. A very trimmed-down, one-sided malt. No oak, no peat, no sherry. Just easy drinking and easy to pair.
Finish: Short, but with a lingering caramely sweetness.
Adding a few drops of water kills whatever nose there was, replacing it with maybe a faint floral air – maybe rose? However, it brightens up the palate, giving some citrusy notes and making it taste a little less stale. I definitely recommend the water with this one, at least a few drops. For a bottle in the $25 range, it's unfortunately only a step above the cheapest blends, with perhaps a bit more drink-ability than standards like Johnnie Walker or Chivas Regal. It is best suited as a stepping-stone to better malts, as The Glenlivet 12 is slightly cheaper, and has more complexity, and thus deserves the "inexpensive Speysider" spot in your daily rotation.
About The Distillery
Glenfiddich needs little introduction. One of the most prevalent single malt Scotches available in the US, the baseline 12-year can be found in drug stores, supermarkets, liquor shops, bars, and restaurants across America. In fact, Glenfiddich and Glenlivet are probably the only two single malts that many Americans would recognize by name. In 1963, William Grant & Sons company set aside casks of Glenfiddich whisky with plans to market it as a single malt. Single malts were, at the time, exclusively the domain of independent bottlers, and were not widely available outside of specialty wine & spirits retailers. This move started the industry (which soon followed suit) down the path of official distillery bottlings of single malt whisky, and is largely the reason today's whisky industry is so diverse. Located in Dufftown, in Speyside. Glenfiddich means "The Valley of The Deer" and refers to the field on which the distillery is sited – it also explains the image of a deer on the label. The entire production, from malting to bottling, is done on-site, which is very rare for a distillery. Craft Campbeltown distiller Springbank may be the only other one. Glenfiddich even has its own cooperage. Open mash tuns and Douglas-fir washbacks are used in distillation, and the water flows from Robbie Dubh spring, which rises from the granite Conval Hills. With 29 stills making 10 million litres of whisky a year, it's no surprise that 33% of the world's malt whisky sales are Glenfiddich. Even if you don't appreciate the "mass-market" aspect of their whiskies, you have to appreciate the industry revolution set in motion by William Grant a half-century ago, and the powerhouse brand that he built.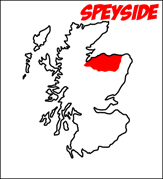 Glenfiddich (12 year)
40% ABV