Tamdhu distillery, during long-time ownership by the Edrington Group (of Macallan and Highland Park fame), played second fiddle to the company's big hitters, and most of its production was destined for blends such as Edrington's Famous Grouse, as well as J&B and Cutty Sark. The distillery was mothballed in 2011 due to surplus stock, and then sold to Ian MacLeod Distillers, who resumed production in 2013. The new owners gave the product line a much-needed refresh, with better packaging and a truly nice website (Check it out, and just start mousewheel scrolling), although they made the odd choice of bottling at 43% ABV for export, and 40% ABV for UK distribution. A brief search of the Internet reveals a general preference for the 43% ABV version, and no wonder.
Aged only in sherry casks (European and American oak, with a "high proportion" of first-fill casks), the distillery's flagship bottling now sports a 10 year age statement. In my opinion, it's nice to see a product line ADDING an age statement these days. Kudos, Ian MacLeod. There was also a Limited Edition 10 year-old bottling from exclusively first-fill sherry. That'd be an interesting comparison tasting! Thanks to ImpEx Beverages for the sample.
Update 8/17/2020: Tamdhu 12 year has replaced this 10 year as the entry-level single malt from Tamdhu.
Nose: Pungent sherry. Orange oil, funky dried fruits, and sticky toffee pudding. A lot of aroma without much nose tickle. An undercurrent of malty caramel. Sweet, but not cloying. A lot of depth here.
Palate: Orange marmalade. More funky dried fruit – prunes and apricots – with a layer of chocolate malt. Not as much depth here, but very well balanced and flavorful.
Finish: Medium long. Orange creme popsicle. Slightly bitter – mostly in an orange peel kind of way. Mildly oaky. Fades with a hint of hazelnut and more orange peel.
With Water: A few drops of water seem to mute the aroma, and wash out the palate. I wouldn't say this malt needs any water.
Overall: This is like a love-child between Dalmore 15 and GlenDronach 12. It has a burst of orange peel, with the funky "almost off" meaty/nutty notes familiar to GlenDronach fans. It's not quite as meaty as the GlenDronach 12, but it's much less bitter than the younger Dalmores. At this price point, I'd consider it to be a "step up" purchase for the mid-level sherried spot on your shelf, equally as deserving as GlenDronach 12, depending on your tastes. I know times have changed, still I'm never crazy to pay above $50 for a 10 year-old malt. At least this one delivers in the glass.
About The Distillery
This Speyside distillery was built in 1896 and was soon sold to Highland Distillers (now a subsidiary of Edrington). Tamdhu is known mostly as the site of the only functional Saladin box-style maltings in Scotland, which produces all of the distillery's own malt requirements and also supplies unpeated malt to Highland Park and Glenrothes as well (or did, when it was owned by Edrington). Tamdhu has six stills and uses wooden washbacks. Its malt was often used in The Famous Grouse, J&B, and Cutty Sark blends while it was owned by the Edrington group. In 2011 the distillery was sold to Ian MacLeod Distillers, owners of Glengoyne and several blended brands, after being shuttered for three years. Water comes from either the Tamdhu burn (which flows into the Spey), or from an on-site well that taps into the gravel of the River Spey. If the distillery still uses the well, that would make it the only distillery in Scotland that still uses water directly from the Spey.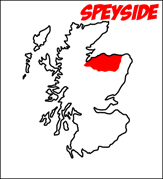 Tamdhu (10 year)
43% ABV
Acquired:
(Sample) Courtesy of ImpEx Beverages. Thanks, Katia!