The Creative Whisky Company – independent bottlers responsible for the range of bottlings under the Exclusive Malts brand (and imported into the US by ImpEx), released this blended whisky containing 80% malt and 20% grain whisky, which is an exceedingly high malt-to-grain ratio. An ex-sherry cask was involved, but I'm not sure at what stage, or which component. The blend is at least 21 years old, and the vintage year indicates that all of the components were distilled in 1991. It's bottled at a reasonable 46% ABV. I wish I knew what was in it to justify the $99 price tag.
Here's a piece of advice, if you're reading this and you happen to own or work for an independent bottling company. For each label you release, put on your website AS MUCH information as you legally and logistically can! The kind of people who drop $99 on independently-bottled blends are the exact kind of people who want to know what's in it. What types of casks, what distilleries in what percentages, phenol levels, whatever you've got, make it public and easy to find. If you've entered into agreements with distilleries to not include the name of the distillery, then put hints or at least the regions and type (Ex-bourbon? What type of sherry cask? Peated?). Also, leave the page available in an "archive" or "past releases" section for people who find dusty bottles or simply sit on them for awhile before opening.
Thanks again to ImpEx Beverages and Katia for the sample!
Nose: Silky cherries and stone fruit, but mild, and layered with light caramel. Grain comes across as vanilla bean and sugary limoncello.
Palate: Lemon comes to the fore again, with a background of oak. Grain notes are a little sharp.
Finish: Short to medium in length. Nice nuttiness, with bitter lemon pith.
With Water: A few drops of water awaken an abundance of florals, raspberry, and a flush of nose tickle. The notes of the palate are heightened and more vibrant, and the finish is more tart. I highly recommend a few drops of water with this one.
Overall: A light dram, with ghostly wisps of fruit and wood from what is probably refill sherry. The dominant note is limoncello, a first for me, but the overall impression is of lightness. Old lightness, to be sure. The nose is especially elegant, with great integration between the refill sherry and the well-aged grain. The coherence falls somewhat apart on the palate, fracturing into fruit, oak, and grain alcohol. Luckily, a few drops of water go a long way towards waking this dram up.
I would only recommend this to someone who is a big believer in older blends, and looking for something out of the mainstream. It's not the best blended whisky I've ever had, but $99 is actually relatively inexpensive compared to other blends aged more than 21 years, and nothing else has this high a malt percentage. I'm using a 'Try before you Buy' rating, which is probably impossible, but I don't have a 'Buy only if this is up your alley' mark. Maybe I should…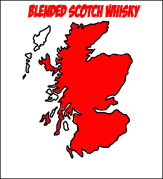 The Exclusive Blend 1991
46% ABV
ScotchNoob™
Mark
:
Acquired:
(Sample) Courtesy of ImpEx Beverages. Thanks, Katia!