Benromach, like many of the lesser-known distilleries in Scotland, has been subject to long periods of closure and changes of ownership. Its malt has been used principally for blending until the new millenium, when new owners Gordon & MacPhail (independent bottlers) gave the distillery a fresh lease on life with a refurbishment and a marketing push for a new line of single malts. They also have a phenomenal website with a very hearty dose of the kind of information that most producers are lacking. I was able to taste the lineup at a recent tasting event in Redwood City, CA. Overall, I thought Benromach malts offer good value for the money, although the distillery has some distance to go before it truly wows.
The 10-year flagship bottling was aged for 9 years in a combination of 80% ex-bourbon and 20% ex-sherry casks (all first-fill), and then married for 1 additional year in first-fill European oak oloroso sherry casks. The sherry barrels are sourced from Bodegas Williams & Humbert in Jerez. Bourbon barrels come from Heaven Hill and Jim Beam. For the 10-year, Benromach uses malt peated to a delicate 12 – 14 ppm using Highland peat. This is to emulate the style of "traditional" Speyside whiskies, which were routinely malted using peat fires before the advent of new heating technologies (and new tastes in lighter-style whiskies for blending). The result is bottled at 43% ABV with no added color.
What I like about Benromach is that it's a tiny distillery (2 stills and 4 wooden washbacks), owned by an independent Scottish company, that is producing truly "craft" whisky in an industry and a country dominated by large-scale multinational firms. Distilleries like this are a dying breed, and it's nice to see one with new life breathed into it by a dedicated owner.
Nose: Nice round grain-forward aroma. Vanilla, lemon, grains of paradise, and faint caramelized sugars. Lightly earthy (mushrooms) and only slightly grassy (or perhaps mossy). A rest in the glass brings the elements together into a more rounded whole.
Palate: Slightly creamy body. Malty, with standard ex-bourbon notes (vanilla, caramel), plus a tinge of anise, lemon peel and light peat. Where's the sherry?
Finish: Medium-long. Warming, with mouth-drying tannis, but not bitter. More earthy "slightly peated" notes, but fades with brown sugar.
With Water: A few drops of water brings out vanilla frosting in the aroma, along with slight nuttiness and perhaps raisin. Added peat on the finish. Water is definitely of benefit with this dram.
Overall: Nice! Simple, but full-flavored. Peat is subtle, but in nice balance. (Note that a previous tasting of earlier batches showed elements of young "new make" on the nose. These are absent with the recent batch that I sampled.) Still, this does not rise significantly above your "standard" ex-bourbon single malt, especially as I could not detect any sherry notes at all. The fact that as much as 20% of the vatting comes from first-fill sherry and that the whole was finished in oloroso sherry completely escapes me in the glass. At $45, this is a reasonable choice for a rotating daily dram. I probably wouldn't pay much more than that.
About The Distillery
The Benromach distillery has a rocky history of lengthy closures and juggling ownership since its construction in 1898, but is now in the steady hands of independent bottlers Gordon & MacPhail. The new owners refurbished the distillery and began producing malt in earnest in 1998, and are now bringing a line of official bottlings to market. The distillery uses water from a spring in the Romach Hills, and proudly claims to use only first-fill barrels for aging whisky.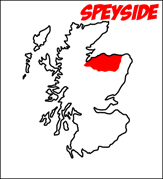 Benromach (10 year)
43% ABV
Acquired:
Tasted at an event, Redwood City, CA, in October 2016.