A little confession: Once in awhile a little package arrives at my front door addressed to "The Scotch Noob". This can only be one thing. Free whisky! It doesn't happen often, and when it does it's usually 100ml or so, but nothing makes the trials and travails of the whisky blogger's life more worthwhile than the occasional drop of free whisky. This is especially true when that glorious little 100ml bottle contains something precious that I'd never otherwise have an opportunity to sample, like Compass Box's recent limited edition release of Hedonism – this one called 'Quindecimus', a tortured way to name the bottling after Compass Box's 15-year anniversary. Hedonism is a still a blend of top-notch scotch single grain whiskies with no malt in sight. This special release is a blend of grain from four distilleries of various ages, none of which are younger than 20 years of age, and all of which matured in ex-bourbon American oak casks. The result is bottled at 46% ABV with no added color and no chill filtration.
I particularly like Compass Box's quote from Oscar Wilde that graces the marketing materials for Quindecimus. Words to live by and no mistake:
Everything in moderation, including moderation.
– Oscar Wilde
Do I worry about the ethics of reviewing whisky that I've received for free? Maybe, but it helps that Compass Box has pretty much never made a bad product, so I don't have to feel bad about recommending them. 🙂
Nose: Wow. Even at only 46%, this takes your nose by storm. A cacophony of mown hay, aloe vera, exotic dried citrus peels, vanilla bean, violets, that thing that's been giving me seasonal allergies for the past week, and six or seven other aromas I can't name. Complex, evolving, and fascinating.
Palate: Mildly creamy body. Slightly grassy, but backed up with fresh vanilla, sugar cane, cream of wheat, and coconut-flour cake. Quite sweet on the back palate, but not cloying.
Finish: Long. A reprise of the palate – mostly vanilla and sugar cane, but with a few hints of the potpourri of aromas. Fades with coconut, and is never bitter.
With Water: A few drops of water actually hide some of the fainter aromas. I don't recommend any water with this – it certainly doesn't need it.
Overall: Unreal. A testament to the blender's skill, and irrefutable proof that grain whisky can be ethereal. Personally, I don't conclude from this that grain whisky in general is good, but that most blenders are clearly cutting costs and using inferior grain. Why can't more blended whisky taste even slightly like this?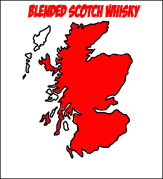 Compass Box Hedonism Quindecimus
46% ABV
ScotchNoob™
Mark
:

Acquired:
(100ml sample bottle courtesy of Compass Box)