Oddly, I had reviewed the special-edition Spice Tree Extravaganza from Compass Box, but not the standard Spice Tree bottling. The Spice Tree itself has a storied history, originally comprised of whisky aged in barrels with toasted French Oak staves inserted. However, the SWA (Scotch Whisky Association) ruled that this violated regulations covering how scotch may be matured, and demanded that Compass Box remove Spice Tree from the market, threatening legal action. Compass Box complied, and re-released the Spice Tree after aging it in barrels with new toasted French Oak heads coopered onto them, which IS acceptable to the SWA and the law.
So what is Spice Tree? It's a blended malt scotch whisky, meaning it is made entirely of malt whisky from more than one Scottish distillery. Rather than try to describe the combination of cask types involved, I will just include Compass Box's own handy infographic:
In essence it's a mixture of 60% Clynelish, 20% Dailuaine, and 20% Teaninich, the majority of which is then finished for two years in various toast (heat-treated) grades of the aforementioned French Oak-topped barrels. This is intended to bring out the "spice" notes inherent in French Oak as well as contribute to the sweet, oaky flavor available when using new oak (as opposed to re-used oak, which is the vast majority of wood used in the aging of scotch). Compass Box is careful to blend batches using various levels of toast and without 100% of the whisky touching the new oak heads, as new oak has a reputation for creating overly-wooded whisky. This is, of course, what all bourbon and many other American whiskies are aged in, so the caution may or may not be warranted. Still I trust John Glaser, Compass Box's founder and master blender, whose reputation as a blender is well recognized.
The married whiskies are then bottled at 46% ABV without added coloring and without chill filtration, and forms part of Compass Box's consistent portfolio. If you want to know the (approximate, they vary) ages of the components used, simply email Compass Box in accordance with their Campaign for Transparency.
Nose: Lemon balm, candle wax, (hello, Clynelish!). White fruits (white peach or white mulberries or something), delicate peachy florals, and light, airy honey. A simple aromatic pleasure, and totally devoid of anything I would call "spice". After a rest in the glass, some green banana.
Palate: Syrupy, waxy body. Sweet and honeyed. More peach, with some dessert wine flavors (riesling maybe). White sangria. On the back side of the palate, something nutty… maybe hazelnuts, and a bare touch of oak that comes across as stale cinnamon sticks. Maybe this is the "Spice"?
Finish: Short. Fading fruits, now dried apricot and tannic white tea. These fade cleanly and without bitterness.
With Water: A scant few drops of water dumps puréed banana all over the aroma. This dissipates to reveal an herby anise note and some coconut. The rest of the experience is unchanged. Water optional here, it really doesn't need it. Note that after a longer rest, I'm able to detect the candied ginger and gingerbread notes alluded to in the marketing.
Overall: Spice be damned, this is a wonderfully pleasant dram. I'm a sucker for peach flavors in a whisky, and doubly so for the unique waxy texture and aroma that Clynelish brings to the table. I could wish for a little heavier dose of that nutty French Oak flavor. Of Compass Box's regular vatted (sorry – "blended malt") scotch releases, this is probably the best. At $70, it's pricey, but doesn't disappoint. I will probably buy a full bottle of this for serving after special meals.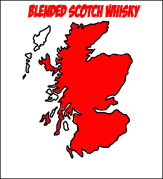 Compass Box – Spice Tree
46% ABV
ScotchNoob™
Mark
: