I don't review a lot of blended scotch, and only once have I reviewed Chivas Regal (a 12 year). That said, I've had good experiences when makers of blended scotch push the envelope a little bit with cask finishes or other frills, and I thought maybe a 13 year age-stated blend finished in rye casks could be a successful experiment. Also, it was (and still is) $18 at some retailers in the US, even though its original MSRP was closer to $40.
This special edition Chivas was bottled as a tribute to the Manchester United Football Club (that's soccer to us yanks). Why? I don't follow soccer so I don't know. For some reason Chivas thought the entire world needed access to British soccer-themed liquid merchandise because they even went so far as to run 750ml bottles for the US market. Maybe that particular miscalculation is why I got it on sale for only $18.
The whisky in true blended scotch fashion is bottled at the absolute minimum 40% ABV strength.
Nose: First note is acetic – like cider vinegar. Behind that is a clear grainy note, with classic scotch grain whisky notes of vanilla, hay and nail-polish remover. After a rest in the glass, some subtle fruit notes start to appear: pear, white tea, orange blossom honey. These are subtle, though.
Palate: Medium-heavy body (not quite syrupy). Almost no tongue burn. Flavors are mild, but distinctly in-line with blended scotch: light honey, hay, shortbread cookies. If there's a rye note, it's so far in the background that I can't taste it.
Finish: Short. A little charcoal, and a mouth-drying woody note (finally). Fades quickly without evolving, leaving only a ghost of nail-polish remover.
With Water: A few drops of water amp up the nose tickle significantly, and also increase the fruit notes (primarily, pear). The palate and finish seem sweeter. The water is an improvement, but it doesn't save the day.
Overall: In a word, Forgettable. It's not bad whisky, and it would be easy to consume a bottle in a few nights of casual social drinking without paying much attention to the liquid. There's nothing standing out, though, no interesting aromas or flavors, and no discernable effect from the rye cask. Even the 13 year age statement is ignorable: it doesn't taste any "older" than your typical 3- or 4-year old blend, although perhaps it has fewer off-notes. My guess is that Chivas tried to bottle an older blend and found that the re-used oak hadn't matured the whisky sufficiently, so they tried dumping it into more active rye casks to accelerate the maturation. If so, I'm not sure it worked.
Now that I'm done panning the whisky, if you find yourself with only $20 to spend on a whisky, and it has to be scotch, and they don't have Glenlivet, you could certainly do worse than this but I would not pay full retail for it. If you're a deal hound who finds enjoyment in drinking underpriced whisky, you'll definitely appreciate the price-to-value ratio here.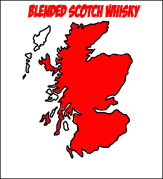 Chivas Regal (13 year) Rye Cask Blended Scotch
40% ABV
ScotchNoob™
Mark
:
Acquired:
(750ml Bottle) purchased at Mission Liquor, Pasadena, CA, $18