Alchemist is a small independent bottler known for an eclectic catalog which includes not only whisky, but calvados, rum, and armagnac as well. Their 16 year-old Highland Park finished in Calvados (French apple brandy) bottles is one of the finest whiskies I've ever tried (review upcoming). It's also one of the bottles that I hear talked about most frequently around K&L Wines in Redwood City. Alas, it's long gone. When K&L had a closeout on Alchemist a few months ago, I picked up the Highland Park and also this one, a simple Macallan 15. Like the distillery 18, this had been matured exclusively in sherry butts.
Nose: Piquant old concentrated sherry. Meatier than distillery-bottled releases from The Macallan. This is a little more like GlenDronach, with some rubber, caramelized onions, and teriyaki jerky. Underneath there is a strong current of sweet plums, raisins, and smoked nuts. Very heavily sherried, but not as candy-apple sweet as some Macallans.
Palate: On the tongue there is an abundance of nuts, first hazelnut and then some darker notes of roasted almonds and chestnuts, as well as cocoa nibs, dense prunes, brandy, and a touch of molasses. Many of the aromas continue in the latter part of the palate, with dark, resinous, meaty sherry notes.
Finish: A bit more fruity, with the sweeter notes left on the tongue. Cherries, raspberries, and some lingering dried fruits, peanut butter, and a hint of rubber.
With Water: The nose becomes a tad sharper, and only the lighter fruits, some vanilla bean, and a suggestion of rubber become detectable. The palate becomes far sweeter: chocolate-covered cherries, taffy, port wine, and hazelnut butter. The finish is unchanged. Definitely drink your fill without water first, before trying a few drops as a curiosity. It's better without the water in my opinion.
Overall: A very different and enjoyable alternative to distillery-released Macallan. It clearly deviates from the distillery profile of sweetness, bright red fruit, and elegant old sherry. Here there are wilder notes and sharper edges. Almost savory at times, and eclectic. Luckily, it never goes too far off course, is never bitter or rancid, and doesn't contain any truly 'off' notes. An experience, and an education in the wide range of flavors available from sherried scotch. Note that many of these flavors are available in the cheaper (and more readily available) GlenDronach distillery bottlings, since it would be difficult to locate this particular bottle, now that most of it has sold out.
About The Distillery
The Macallan is big. Real big. Prized by collectors, consumed all over the world, The Macallan is a marketing powerhouse, with a very wide range of single-malt expressions targeting local tastes in every major market. Distilling almost continuously since 1824 when Scotland first legalized the production of spirits, The Macallan releases "replicas" of its older bottlings and also continuously experiments with new finishes. With global whisky tastes evolving away from the classic "all Sherry, all the time" style, The Macallan is battling its image as a Sherry Monster by releasing a "Fine Oak" range that focuses on the wood influence, and using a lower proportion of Sherry aging. You can always rely on a flagship Macallan to display big sherry notes of dark fruit, raisins, and spice.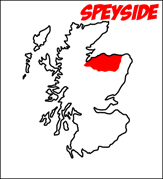 Alchemist: The Macallan (15 year)
46% ABV