Compass Box has been on a roll lately, churning out special release after special release. It's refreshing, then, to review a new permanent member of the Compass Box lineup. The Story of the Spaniard – awkward name aside – is both a nod to the common practice of maturing scotch whisky in Spanish sherry casks, and also a reference to a special release bottling called The Spaniard that CB released for a bar by that name in New York. Don't get the two editions mixed up on the shelf!
Thanks to Debbie at The Collective PR, I was able to sample a slate of Compass Box malts including this one. The Story of the Spaniard is a blended malt whisky (that is to say, multiple single malts but no grain whisky) that is composed of malts aged in ex-sherry (48%) and Spanish red wine casks (25%). The vatting is bottled without added color or chill filtration at 43% ABV. As usual with Compass Box, all of the information you could possibly want is available online except for the ages of the components, for which you must email "hello at compassbox.com" to ask. 40% of the malt here is from "A distillery near Aberlour" which could mean Aberlour, Macallan or Craigellachie. That latter is most likely. The component that is aged in Spanish red wine casks is from Teaninich.
Compass Box is intending to release a batch or two a year, based on availability of the Spanish red wine casks needed for the Teaninich.
Nose: Almost (but not quite) a sherry bomb. Sweet and unctuous and syrupy sherry, with the usual dried-and-jammed fruit notes of fig and plum and apricot. Caramel, sweet honeyed malt, and maple syrup. Dense and enticing.
Palate: Thin body. Sweet and fruity upfront, with all the notes promised by the aroma. Figs, dates, Christmas cake, plump raisins, and not-quite-resinous balsamic.
Finish: Medium-short. Some red wine tannins, with a dash of oak and a hint of bramble. Fades quickly without evolving.
With Water: A few drops of water seem to mute the aroma without adding anything. There is, perhaps, some vanilla buttercream frosting. Maybe. The palate is similarly watered-down and… you know what? Just skip the water.
Overall: A fine sherry bomb. The Spanish red wine casks are noticeable, but thankfully do not impede the flow of the whisky like many red wine finishes I've tasted in the past. They seem to contribute tannins and some fresh fruit notes without becoming overly bitter or uhh… "red winey"? There is a very manageable amount of bitter tannin here, and an abundance of delectable sweet sherry notes. If it were $40, it would be my new go-to sherry bomb. At $60, it's something I might consider purchasing when I'm in the mood. At that price-point, it competes with a lot of excellent sherried whisky. GlenDronach 12 (a totally different type of sherry, but comparable in quality and maturation age) can still be found for $45. Just sayin'.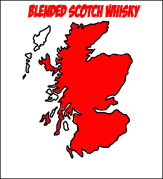 Compass Box – Story of the Spaniard (Batch 1)
43% ABV
ScotchNoob™
Mark
:
Acquired:
(50ml review sample) Thanks Debbie!