The third in my brief series on A.D. Rattray bottlings of little-known but active distilleries. (See Glen Ord and Macduff reviewed earlier). Like the other two, most people have never even heard of Craigellachie (Creg – alla – key). The distillery is now owned by Bacardi, and the new owners have begun releasing distillery-labelled bottlings (although I've never seen one in the USA). Of the three, I liked this one most. It showed complexity and an eclectic personality, with Sherry influence present but not overwhelming. Its relative youth served only to brighten flavors. A good example of why older is not always better.
Like the previously-reviewed A.D. Rattray malts, this is bottled at cask-strength (59.6% ABV), and has no color added or chill-filtration. Go A.D. Rattray!
Update: The distillery now has an official line of expressions. Here's a review of the 13-year.
Distilled 8/20/2002, Bottled 5/17/2011
Nose: Anise, Lime juice. Not too prickly, despite youth. Gold raisins. Marshmallow and loads of vanilla frosting.
Palate: Soft, with good alcohol integration for an 8 year-old. Great soft sugars, specifically raw cane and simple syrup. Powdered sugar? Gold raisins.
Finish: Not too much burn, and medium-long. A little wood bitterness on the tail end, the only noticeable flaw.
With Water: The addition of water dulls the bright flavors a bit too much for me. I'd skip the water.
Overall: Nicely complex. This whisky does not toe the line of Speyside style, instead branching out in eclectic ways. Raw cane? Anise and lime juice? I would not have pegged this as a sherried Speysider. Very interesting, although the novelty might wear off after paying $66 for a full bottle. Certainly worth trying, especially if you'd like to cross another distillery off of your bucket list.
About The Distillery
A Speysider previously in Diageo's catalog but sold to Bacardi recently. It was built in the 1890s to make use of the railway lines running to the town of Craigellachie. The use of worm tubs, wooden washbacks, and a distinctive sulfuring process during malting make Craigellachie spirit weighty – some say waxy – and fruity.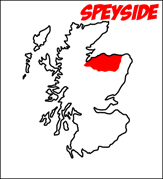 A.D. Rattray: Craigellachie (8 year)
59.6% ABV
Acquired:
(1/4 oz tasting sample) K&L Wines and Spirits, Redwood City, CA