I do a lot of the tastings for this blog based on samples that I've purchased from either Master of Malt (although not since they were purchased by AB InBev and stopped shipping to the US) or Flaviar. So many, in fact, that I often end up with a big backlog of samples that quickly go obsolete. One benefit to tasting from sample bottles is that I have no preconceived notions about the full bottle price while I'm tasting. This frees me from expecting too much (or too little). When I write up the tasting notes I like to try and guess the price, and it should be no surprise that I'm almost always on the cheaper end of the range when I do this. It's probably because my brain is anchored to prices from back in the early 2010s, and now I say stuff like "Back in my day Macallan 18 was $80 a bottle!" We also walked uphill in the snow both ways to school.
This official bottling (one of three from the distillery including a 17-year and a 23-year, all new in 2014 after Bacardi assumed ownership) comes from a combination of ex-bourbon and ex-sherry casks, and is bottled at 46% ABV without added coloring and without chill filtration.
I've only reviewed one other Craigellachie, so I don't have much of a point of reference. Both times it has appeared to me to be a middle-weight Speysider with a decent balance of fruit and caramel notes that is otherwise forgettable.
Nose: Potent spike of caramel sweetness, with oaky vanilla overtones. There isn't a lot of additional complexity – just various shades of wood and malty sugars. After a rest in the glass, some ripe banana notes creep in.
Palate: Medium body. An initial wave of banana and toffee is accompanied by a very mild tongue burn. Then, slightly bitter and slightly smoky barrel char, oak chips, and burnt caramel.
Finish: On the short side. A very consistent finish, comprising the good notes from the nose and palate, but without much bitterness. Unfortunately it fades quickly, without evolving.
With Water: A few drops of water release a nice orange peel note which merges well with the caramel. The palate seems thinner, the finish livelier. Water is a good idea with this malt.
Overall: A fairly one-dimensional malt that is somewhat marred by my least-favorite flavor note (banana). The wood is nice, as are the well-balanced sugar notes that verge on toasty toffee and caramel, but there isn't much else to recommend it.
Tasting price-blind, I said I would be hesitant to pay more than $35 for this. Now that I see it retails for $48+ I'd call that a "Try Before Buy" kind of situation, unless you see a screaming deal. Upon further reading, I wonder if the famous sulphur note that everyone says is a hallmark of Craigellachie might be hitting my jaded senses as banana. That will require more investigation…
About The Distillery
A Speysider previously in Diageo's catalog but sold to Bacardi recently. It was built in the 1890s to make use of the railway lines running to the town of Craigellachie. The use of worm tubs, wooden washbacks, and a distinctive sulfuring process during malting make Craigellachie spirit weighty – some say waxy – and fruity.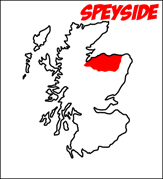 Craigellachie (13 year)
46% ABV