Like the A.D. Rattray bottling of Glen Ord reviewed earlier, Macduff is another barely-known distillery operating largely to provide whisky for blending. In this case, the William Lawson's blend. Independent bottlers (here's another one) serve the whisky lover by providing access to rare or rarely-released whisky, which can be both a blessing and a curse. Without a "standard" expression, these are usually single-casks chosen and aged by the bottler. This means they can vary widely in quality, and require the buyer to rely on the bottler's reputation.
This bottle, a sherry-finished expression of Speysider Macduff (aka The Deveron) at 10 years of age, uses craft presentation (cask-strength at 59.8% ABV, without added color or chill-filtration).
Distilled 11/15/2000, Bottled 04/05/2011
Nose: Pine. Vanilla, butterscotch. Where's the sherry?
Palate: Tongue burn is a little rough, like a younger malt. Touches of grape skins and then light sherry (a little like watered-down red wine). Youngish bright red fruits. A little nutty, plum pits?
Finish: Somewhat continues the burn. Not very smooth. Echoes of palate notes, leaving an impression of sugared plums and tannin from grape skins.
With Water: A little more bitterness develops on the finish. Lemon peel, red berries on the tongue. The body becomes a little meaty, which is nicer. Try it with water.
Overall: Not a great introduction to Macduff. It's hard to say if the few unpleasant notes were a result of cask choice or simply reflect the distillery style. If I had spent $66 on a bottle of this, I might be disappointed. At least it's cask strength and craft presentation.
About The Distillery
A Speysider owned by Bacardi and often bottled as Glen Deveron or "The Deveron". It was built during the whisky boom of the 1960s to capitalize on expanded demand for Scotch. The modern facility is outfitted with relatively high-tech equipment, but remains largely unknown as a single-malt. A large percentage of its production goes into the William Lawson's blend.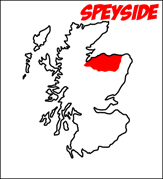 A.D. Rattray: Macduff (10 year)
59.8% ABV
Acquired:
(1/4 oz tasting sample) K&L Wines and Spirits, Redwood City, CA